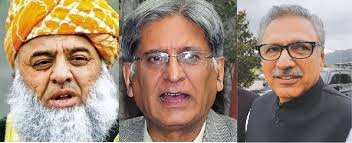 By Muhammad Luqman
Pakistan's legislators will elect the 13th President of country on September 4, Tuesday as five-year term of the incumbent head of the state, Mamnoon Hussain expires on September 9.
The President of Pakistan is indirectly elected by the Electoral College of Pakistan – a joint sitting of the Senate, National Assembly and Provincial Assemblies.
There have been 12 presidents of Pakistan since the introduction of the post in 1956.The office was established when Pakistan was declared as a republic with the adoption of the 1956 constitution, and Iskander Mirza became the first president of the country. Apart from these twelve, two acting presidents- Wasim Sajjad and Mohammedmian Soomro, have also been in office for short periods of time.
The head of state of Pakistan from independence until Pakistan became a republic in 1956 was the British monarch while heads of the government were Governors-General.
Six presidents have been members of a political party and four of them were active party members of the Pakistan Peoples Party (PPP). The first president was a retired military officer, four others were incumbent military officers of which three gained power through successful military coups in Pakistan's history – Ayub Khan in 1958, Muhammad Zia-ul-Haq in 1977 and Pervez Musharraf in 1999.
Dr. Arif Alvi of ruling Pakistan Tehrik-e-Insaaf, Aitzaz Ahmad  of Pakistan People's Party and Maulana Fazalur Rehman, a joint candidate of Pakistan Muslim League (N) and Mutahidda Majlis-e-Aml are the contestants of September 4  Presidential elections.
According to analysts, a three-way contest will only benefit the ruling PTI, which has a total of 251 members in the 706-strong electoral college and its tally goes up to 314 if the votes of its alliance partners are also counted. However, the joint tally of the PML-N and PPP comes to 260 and if votes of smaller parties are added, it climbs to 321. Theoretically, a joint opposition candidate has chances of winning but it rests upon consensus between PML-N and the PPP. But there are little chances of a joint candidate of the opposition parties, leaving the way for win of the ruling party's candidate.