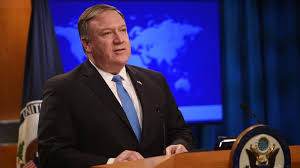 By Muhammad Luqman
United States Secretary of State Mike Pompeo is expected to visit Pakistan early next month to meet  the newly-elected Prime Minister Imran Khan, according to media reports.
Pompeo, an official of the US President Donald Trump's administration, will  arrive in the capital, Islamabad on September 5 for a brief stay on his way to Indian capital New Delhi.
Pompeo and PM Khan are likely to discuss bilateral relations and matters of mutual interest during their meeting before he  leaves for New Delhi on September 6.
It is also expected that Pompeo, who would become the first foreign diplomat to meet Pakistan's new PM, may talk the Afghan peace process as well.
Earlier on Sunday, Pakistan's Imran Khan had addressed the nation in his first-ever televised speech as the premier and emphasised austerity and the need to tackle corruption.
"There is a need for peace and without it, we cannot improve the country's situation," he had stated during the broadcasted speech.
On August 14, Pompeo, in his message to the Pakistani people on the country's Independence Day, had said he hoped to further strengthen ties between the two nations.
He had said: "The US hopes to further strengthen ties with Pakistan in the years ahead and work with its people and government to advance shared goals of security, stability and prosperity in South Asia."
For more than seven decades, the relationship between the US and Pakistan has "rested on the strong foundation of close ties between our two peoples", Pompeo had added.
On August 15, Principal Deputy Assistant Secretary Ambassador Alice Wells, a senior bureau official for State Department's South and Central Asian Affairs, had said the US was eager to work with Pakistan for peace and stability in the South Asian region.
Coupled with the US State Secretary's comments last week, the discussion between Khan and Pompeo on the two-way US-Pakistan relations may commence on a favourable note.
On Saturday, the Department of State had said it "recognize(s) and welcome(s) the newly elected Pakistan Prime Minister Imran Khan on taking the oath of office.