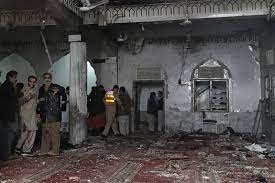 Web Desk
Atleast 56 people were killed and 194 injured when a suicide bomber blew himself up in a mosque in Pakistan's north-western city of Peshawar on Friday.
The spokesperson of Peshawar's Lady Reading Hospital (LRH), has confirmed the casualties, adding that some of the injured were in critical condition.
According to the CCTV footage aired by local TV Channels showed a lone attacker clad in a black shalwar kameez reaching the mosque in the city's Qissa Khwani Bazaar on foot and brandishing a pistol.
He opened fire on police personnel deployed outside the main entrance for security before running inside. The attacker also opened fire on a man who tried to stop him and managed to enter the mosque, where worshippers had gathered for Friday prayers, after which an explosion took place.
Speaking to the media, Khyber Pakhtunkhwa Inspector General of Police Moazzam Jah Ansari said two police officials were deputed at the mosque for security.
He said that one constable was martyred, while another police official was in critical condition. The senior police officer said that around five to six kilogrammes of explosive material was used, adding that there were no prior reports about the attack.
Talking to the media at the site of the blast Peshawar SSP Operations Haroon Rasheed Khan said that two policemen had been martyred in the attack. He termed the explosion a suicide blast and said there was no "threat alert".

In a tweet late on Friday, Prime Minister Imran Khan said he was personally monitoring operations and coordinating with the Counter Terrorism Department (CTD) as well as law enforcement agencies.
"We now have all [the] information regarding [the] origins of where the terrorists came from and are going after them with full force," he said.
"My deepest condolences go to the victims' families and prayers for the recovery of the injured. I have asked the KP chief minister to personally visit the families and look after their needs," he said.
According to locals, the area housed a number of markets and was usually packed around the time of Friday prayers.
The last major incident of a similar nature had taken place in Peshawar in July 2018, when a suicide blast had claimed 19 lives, including that of Awami National Party leader Haroon Bilour, in the city's Yakatoot area, English newspaper, DailyDawn reported.
Bilour was targeted at an election gathering ahead of the 2018 general election, in which the ANP leader was contesting from the PK-78 constituency. The proscribed Tehreek-i-Taliban Pakistan had claimed the responsibility for the blast.