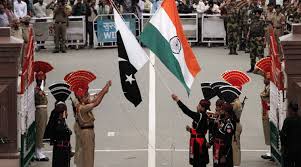 By Muhammad Luqman
South Asians are all set to witness a pleasant change in their history in August when eight  countries of Shanghai Cooperation Organization (SCO) including Pakistan, India, Russia and China will conduct joint military exercises in Ural  mountainous region of Russian Federation.
These exercises are part of the Shanghai Cooperation Organisation's (SCO) Peace Mission 2018 with primary focus on counter-terrorism operations.
The  South Asian arch-rivals will conduct this military drill as part of a larger multi-national military exercise, first time in their  70 years history since they got independence from the British.
Although Pakistani and Indian troops have participated together as members of various United Nations peacekeeping missions in the past, this will be the first time militaries of both countries will participate in joint counter-terrorism drills.
These SCO multi-nation military exercises are held once every two years and peace mission 2018 will be the fifth edition.
India's participation in the Peace Mission 2018 exercises was announced by Defence Minister Nirmala Sitharaman during her speech to the 15th SCO Defence Ministers Meeting in Beijing, Indian media reported.
Peace Mission exercises are held once in two years. This year's exercises will be the 10th edition. The last time, it was held in 2016 in Kyrgyztan.
The SCO was formed in 2001 by China, Kazakhstan, Kyrgyzstan, Russia and Tajikistan.  Now the grouping has eight full members, including Pakistan, India and Uzbekistan.