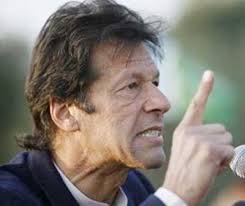 By Muhammad Luqman
Pakistan's Prime Minister Imran Khan has expressed disappointment over the "arrogant and negative response by India to his "call for resumption of the peace dialogue" between Islamabad and New Delhi.
"Disappointed at the arrogant & negative response by India to my call for resumption of the peace dialogue. However, all my life I have come across small men occupying big offices who do not have the vision to see the larger picture," Imran Khan tweeted on Saturday.
India had agreed on Thursday to holding of talks between foreign ministers of the two countries on the sidelines of UN General Assembly Session in New York on September 27 but it announced the cancellation of the meet on Friday.
Indian External Affairs Ministers Sushma Swaraj and her Pakistani counterpart, Shah Mehmood Qureshi, were set to meet on the sidelines of the UN General Assembly in New York next week; it would have marked a thaw in bilateral ties that have steadily grown colder.
Pakistan's  foreign minister Shah Mahmood Qureshi  had called the development "unfortunate", saying that  the decision was taken by New Delhi "under internal pressure".
"The reasons cited by the Indian side for the decision to cancel the foreign ministers' meeting, within 24 hours of its public confirmation, are entirely unconvincing," the Pakistan Foreign Ministry had said in a statement.
"We believe by its ill-considered cancellation of the meeting, India has once again wasted a serious opportunity to change the dynamics of the bilateral relationship and put the region on the path of peace and development," it added.