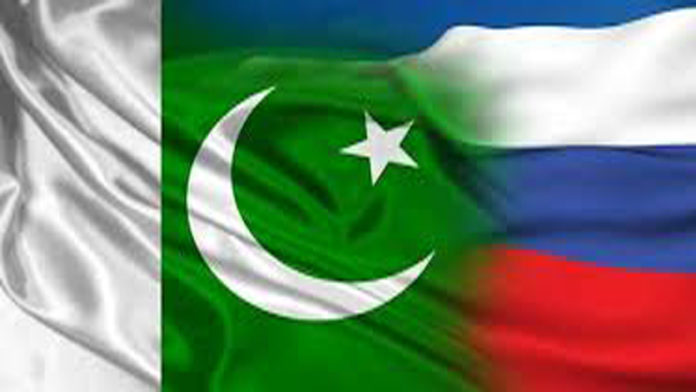 Web Desk
Pakistan's Defence Minister Khurram Dastgir Khan has said that Islamabad is in direct talks with  Moscow for the procurement of sophisticated military hardware, including air defence systems, fighter jets and battle tanks, according to Russian media reports.
The minister confirmed that Islamabad was interested in buying weapons from Moscow in an interview to the Russian news agency, Sputnik, in which he also talked about increased cooperation with Kremlin which mirrors Pakistan's wider geo-strategic concerns.
"Air defence system is a different kind of weapon we are interested. We are very much interested in a very wide range of the Russian weapons technology. We are in negotiations [on air defence systems] and once we conclude negotiations, we will be able to announce them," Khan told the Russian media.
The defence minister also outlined that Islamabad was interested in acquiring T-90 tanks from Moscow as part of a long-term deal rather than committing itself to a single purchase.
"We are interested in tanks T-90 and it is not going to be a one-time purchase but it is going to be a long-term commitment," Khan stated.
He added that negotiations for the purchase of Russian Su-35 fighter jets are in their early stages, and an agreement in this regard may be reached "in the next few years", according to the Russian website.
Talking about security issues in South and Central Asia, the defence minister noted that both Pakistan and Russia were interested in a stable and democratic Afghanistan.
"We respect Afghanistan's sovereignty. Stability in Afghanistan is important for Pakistan to be able to develop its own prosperous future, to access to the Russian market, for example, by land route. Democratic and stable Afghanistan is in the deep the interest of both Russia and Pakistan," the minister stated.
He also lauded recent efforts by the Kremlin, which aim to bring stability to Afghanistan, highlighting the need for other global powers to devise a similar plan to defeat terrorism all over the world.
"We are supporting the Russian regional approach to Afghanistan and we hope that not only Russia but also China, Iran and of course the United States can sit together at the table and devise a way in which we can achieve internal peace and reconciliation in Afghanistan," Khan was quoted as saying by Sputnik.
The defence minister added that a new approach to solve the issues in Afghanistan by senior government leaders in Kabul was a positive step, which showed that the Afghan president was interested in ending the conflict, rather than winning the prolonged war.
"One positive step that has happened recently is a genuine approach by President Ghani when he had said that he no longer wants to win the war, but to end the conflict," the minister remarked.
"To win the war was the American approach but now the Afghan approach is closer to Pakistan's position on the matter. Pakistan's highest priority regarding Afghanistan is to have a peaceful, democratic, and stable neighbor," Khan underlined.