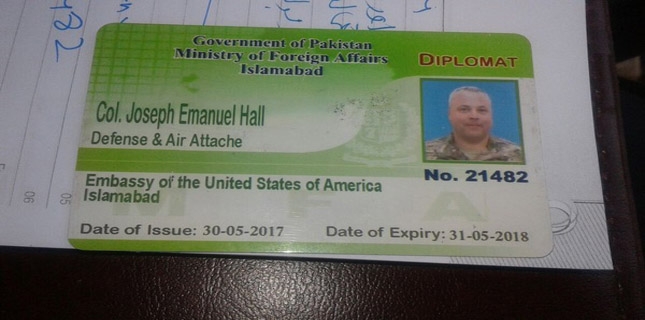 By Muhammad Luqman
Pakistan on Sunday summoned US Ambassador David Hale to Foreign Office to lodge protest over a road accident involving a US diplomat that killed a citizen, Atiq Baig in the capital, Islamabad on Saturday.
According to media reports, US Ambassador expressed sorrow over the loss of life in the road accident.
The ambassador  said  US embassy would extend full cooperation in the investigation into the accident.
Meanwhile, Foreign Office Spokesman Dr Muhammad Faisal said in a Twitter statement that the Ministry of Foreign Affairs is looking into the matter and investigations are being carried out.
"Foreign Ministry closely following investigation into the road accident involving a US diplomat which led to the tragic death of a Pakistani citizen in Islamabad," he said.
According to Islamabad Police officials, US military attaché, Colonel Joseph Emmanuel, was driving the SUV that hit the motorcycle. Twenty-two-year-old Ateeq Baig died on the spot. His cousin, Raheel, suffered a leg fracture.
CCTV footage run by local TV channels showed a car hitting a motorcycle and sending the two riders flying into the air.
he college student, who was killed Saturday when a vehicle of US diplomat hit his motorcycle, was laid to rest in Talhar village near Islamabad.
The police registered a case against the American diplomat at the Kohsar police station on behalf of Baig's father, Muhammad Idrees. Emmanuel was not arrested due to diplomatic immunity. His vehicle, however, was taken into custody.
A spokesperson of the US Embassy also said they were aware of the incident and were cooperating with Pakistani officials in the investigations.
After the killing of the youth by an American motorist, sentiments are running very  high across Pakistan. US-Pakistan relations had touched the lowest ebb about seven years ago Raymond Davis , a CIA contractor gunned  two men in Lahore down on January 27, 2011. A car coming to rescue Davis killed a third man, Ibadur Rahman, in a hit-and-run while speeding on the wrong side of the road.
Davis' arrest severely strained relations between the US and Pakistan governments. In Pakistan, it stoked anti-Americanism to an all-time high level. The CIA contractor was released on March 16 that year after the families of the two deceased men "pardoned" him after receiving blood money.