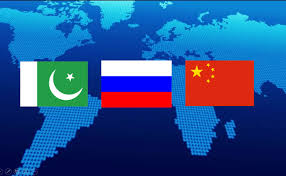 By Muhammad Luqman
President Mamnoon Hussain and Prime Minister Shahid Khaqan Abbasi have conveyed  their heartiest felicitations to President Vladimir Putin on his re-election  as the President of Russian Federation.
"Pakistan and Russia enjoy close, friendly and cooperative relations. Our relations are characterized by mutual trust and convergence of views on important international and regional issues," according to a statement issued by  the foreign office.
The leadership of Pakistan looks forward to working closely with the leadership of the Russian Federation to further strengthen cooperation in all fields of mutual interest, the statement concluded.
Pakistani President and Prime Minister have also felicitated President Xi Jinping and Premier Li Keqiang of the People's Republic of China on their re-election to their respective offices.
"Both the President and Prime Minister of Pakistan appreciated the visionary leadership of China for steering the remarkable growth and development of China in last five years," according to foreign office statement.
Pakistani leaders thanked Chinese leaders for actively supporting China Pakistan Economic Corridor (CPEC) which is the flagship project of President Xi Jinping's Belt and Road Initiative (BRI).
They expressed their desire to continue to work closely with China for further strengthening Pakistan-China relationship in all areas for the mutual benefit of the peoples of the two countries.