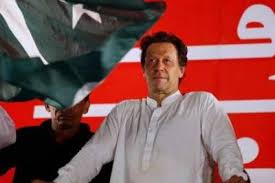 By Muhammad Luqman
Pakistan Tehreek-e-Insaf, the right-leaning political party that won July 25  general elections, has decided against  inviting foreign dignitaries to PM-elect Imran Khan's oath-taking ceremony.
"The PTI chairman has directed that the ceremony should be extremely simple and not ostentatious," spokesman of the party Fawad Chaudhary told mediamen in the capital, Islamabad.
However, he added that some foreign friends of Imran will be invited to the event. "A few of Imran's friends are the only foreign nationals being invited to the event," he said.
Chaudhry said that Imran Khan will take his oath as 20th prime minister of Pakistan at the President House in Islamabad.
A day earlier, the PTI spokesperson had shared that Imran  Khan had extended an invitation to Indian sportsmen and Bollywood star Aamir Khan to attend this oath-taking ceremony.
Chaudhry remarked that those invited to the oath-taking ceremony include former Indian captain Sunil Gavaskar, Kapil Dev, Navjot Sidhu and Bollywood star Aamir Khan.
Meanwhile, Pakistan's foreign office has welcomed Indian Prime Minister Narendra Modi's congratulatory phone call to Pakistan Tehreek-i-Insaf (PTI) Imran Khan earlier this week.
Modi, in his phone call, had told Khan that India is "ready to enter a new era of relations with Pakistan" and that both countries should adopt a joint strategy for progress in bilateral ties.
FO Spokesperson Dr Muhammad Faisal during a weekly briefing in Islamabad  said that he hoped the phone call would pave the way for bilateral talks between both India and Pakistan.
He also hoped that it would lead to an improvement in ties with South Asian Association for Regional Cooperation (Saarc) member states, including Afghanistan, Bhutan, Bangladesh, Nepal, Maldives and Sri Lanka, in addition to India.
Ties with Saarc member states have been tenuous since the 19th summit ─ which was to be held in Pakistan in 2016 ─ was cancelled after India boycotted the event, causing Afghanistan, Bangladesh and Bhutan to also pull out.
Earlier this week, the PTI had been deliberating inviting foreign dignitaries ─ including heads of Saarc member states ─ to Imran Khan's oath-taking ceremony expected to take place on Aug 15, but decided against it today.
In earlier discussions with the FO, PTI leaders were told that extending invitations to heads of state is a sensitive matter. During meetings between the foreign secretary and PTI leaders Shireen Mazari and Shafqat Mahmood, the possibility of India declining the invitation also came up, with the FO suggesting that Pakistan would face embarrassment in such a situation.
However, if India was not invited, FO officials believed that it would convince the other Saarc countries to not attend the event either.