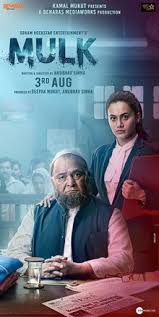 By Muhammad Luqman
Pakistan's Censor Board has banned  the screening of Bollywood blockbuster Mulk, terming its contents unfit for viewers in the South Asian country.
This is not the first time that a Bollywood movie has been banned in Pakistan. In the recent past films like Veere Di Wedding, Raazi and PadMan amongst others were not allowed by the censor board due to their objectionable content.
"Members of the CBFC unanimously decided not to approve the trailer of Mulk as its contents flout the Censorship of Film Code, 1980," says Danyal Gilani, Chairman, Pakistan's Central Board of Film Censors (CBFC).
The  movie directed by Anubhav Sinha  is a courtroom drama that revolves around restoring the honour of a Muslim family accused of treason. Based on a real life story, Mulk highlights the struggles of this family that belongs to a small town in India.
In response to the ban, the Indian director penned a "letter to Pakistan", through which he raises a question about why the censors in Pakistan are not letting the citizens watch a film "that talks about co-existence".
Addressed to the citizens of Pakistan in what he calls a "risk of being called an anti-national by some losers back home", Sinha's letter reaches out to film lovers across the border as they will not be able to see the film legally.
"Why is it that they do not want you to see the film that talks about co-existence," the director questions. "I know, sooner or later, you will have access to the film. Please do watch it and give me your opinion on why did the Pakistan censor board ban the film."
He added: "I really wanted you all to see this film legally, but do watch it illegally, if you must, though our digital team at home is working hard to stop all piracy," he was quoted by newspaper Express Tribune.
Sinha also pointed out that based on the trailer, some people in India thought it was pro-Muslim and people in Pakistan felt it stereotyped Muslims. However, the director maintained that the film is about "love that all of us individuals should have".
The film released in India on Friday , features Prateik Babbar, Rajat Kapoor, Ashutosh Rana and Neena Gupta, apart from Rishi Kapoor and Taapsee Pannu.