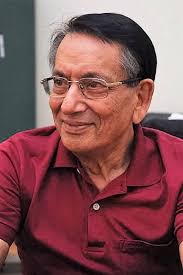 By Muhammad Luqman
Internationally acclaimed playwright and fiction writer Dr Anwar Sajjad passed away in Pakistan's eastern city of Lahore on Thursday evening after prolonged illness . He was 84.
Dr. Sajjad's  hapless death in abject poverty is another manifestation of how genuine talents are treated in this South Asian country.
His financial problems began when National Academy of Performing Arts (NAPA) suspended his salary last year. He had to request the government for treatment but his plea was turned down. However, federal and provincial governments came to his help only after uproar in the media.
Sajjad was not only known for an impeccable command on short-story writing and fiction at large but he was an incredibly talented voice-over artist, teacher and a mentor to several leading names in the Pakistan's 70 years old broadcast industry.
His notable works of published fiction include masterpieces such as Chauraha, Janam Roop, Khushiyon Ka Baagh and Neeli Notebook. A medical doctor by profession, Sajjad always had a knack for not just writing but also for performing arts. He wrote a number of critically acclaimed plays for Pakistan Television including Picnic, Raat ka Pichla Pehar, Koyal and Yeh Zameen Meri Hai.
He was also a fine actor who starred in a number of PTV productions and was also nominated for a PTV award for his performance in drama serial Saba aur Samandar. Sajjad was also an active member of the Lahore circle of literary figures and artists and also chaired the Pakistan Arts Council Lahore, at one point in his career.
Anwar Sajjad married a TV artist, Zeb Rehman in 1980s but the second marriage did last for long. The break-up had bad effects on the writer emotionally as well as financially.
After the advent of satellite channels in Pakistan, Sajjad became associated with a private channel where he was the head of the scriptwriting department. He not only wrote some incredible scripts but also gave voice-overs to numerous successful projects.
In the years before death, Sajjad also oversaw the screenplay/screenwriting department at the National Academy of Performing Arts, which he left due to illness and unresolved grievances.
Born in 1935 in Lahore, Sajjad completed his higher studies in medicine from King Edward Medical College before heading out to the Univerisity of Liverpool for a Diploma in Tropical Medicine and Hygiene.
He is survived by a widow and a daughter.