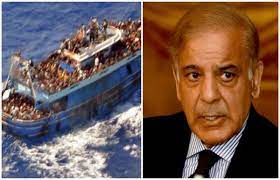 Web Desk
Pakistan's prime minister Shehbaz Sharif has declared a national day of mourning for citizens who died when the fishing trawler packed with migrants they were in sank off the coast of Greece.
Up to 750 men, women and children from Syria, Egypt, the Palestinian territories and Pakistan were on board the vessel, trying to reach relatives in Europe, according to media reports.
The Greek coastguard has defended its response to the tragedy that left more than 500 migrants presumed drowned. The vessel sank on Wednesday.
Shahbaz Sharif expressed his grief over the tragedy and said Monday would be observed as a day of mourning, with the national flag flying at half-mast.
Earlier today, Prime Minister Shehbaz Sharif formed a four-member committee to probe the facts of the shipwreck and directed law enforcement agencies (LEAs) to trace those involved in human smuggling.

He said that Pakistan's embassy in Athens had identified 12 nationals who were rescued by the coastguard. There was no official information on how many Pakistanis were onboard the vessel, how many survived or how many perished.
Greek authorities have been criticised for their failure to act more quickly. They said the migrants insisted they did not need any help, but non-governmental organisations said they received a number of calls for help.
Meanwhile, police in Azd Kashmir said on Sunday that they had arrested 12 people involved in sending local youths to Libya for the onward journey to Europe.
Police were interrogating them for their alleged roles in luring, trapping and sending locals abroad after extracting huge amounts of money from them.
Around 28 people from the Khoi Ratta area in the district of Kotli had gone to Libya for onward travel to Europe, police said.