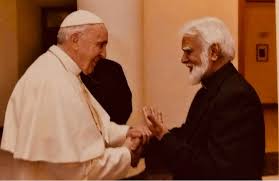 By Muhammad Luqman
Karachi-based Pakistan's Archbishop Joseph Coutts is among 14 new cardinals appointed by Pope Francis at a ceremony recently held in Vatican city.
He is the second Pakistani accorded this honour after Cardinal Joseph Cordeiro, who was appointed in 1973.
In the hierarchy of the Catholic Church, Cardinals come immediately after the Pope. One of the primary responsibilities of the Cardinals is to elect a new Pope when the position becomes vacant.
"The appointment of Archbishop Joseph Coutts is an honour for the entire nation," Pakistan Foreign office spokesman, Dr. Muhammad Faisal said.
The ceremony held  in Vatican city was attended by a Pakistani delegation led by Muhammad Yusuf Shaikh, Federal Minister for Religious Affairs.
"The selection of the Archbishop of Karachi is a proud moment for Pakistan. The Christian community is surprised and pleased by the decision. Coutts is known as 'great promoter of dialogue between Christians and Muslims," Foreign Office spokesman said.
The new cardinals in the Catholic Church come from Italy (three), and one each from Poland, Portugal, Madagascar, Iraq, Pakistan, Japan, Peru and Spain.
In Pakistan, there are about one million Catholics among the 2.5 million Christians in the country's 200 million people, the vast majority of whom are Muslims.
Coutts is a doctor of philosophy and is fluent in several languages including English, Italian, German, French, Urdu, Punjabi and Sindhi. He served as the National Director of Caritas Pakistan, and has been working towards promoting dialogue between Christians and Muslims. He also serves as the president of Pakistan Catholic Bishops Conference.
Cardinal Coutts was ordained a priest in Pakistan's eastern city of Lahore in January 1971 after receiving his training at Christ the King seminary in Karachi.
The Lahore-based archbishop, who has previously served as a bishop in Faisalabad and Hyderabad, has been recently serving his community as Head Bishop at Saint Patrick's Church in Karachi with focus on inter-faith harmony.