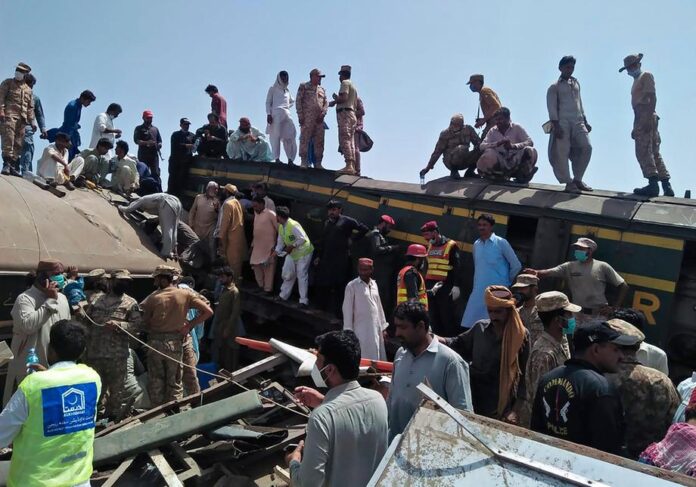 Web Desk
More than 40 persons were killed and another 100 injured after two express trains collided  in Southern  Pakistan  province of  Sindh on Monday, according to media reports.
The Millat Express, on its way to Lahore, and Sir Syed Express, on its way to Karachi, collided near the Mirpur Mathello railway station in Ghotki district .
A spokesperson for Pakistan Railways said that a train heading from Karachi to Sargodha, derailed on to a track carrying a service from Rawalpindi in the opposite direction.
"Several people have been killed and many others trapped inside," the official said.
Mobile phone footage shown on television from the site showed a mangled wreckage, with several green Pakistan railway carriages lying on their side.
Prime Minister Imran Khan has expressed his grief and sorrow over the horrific train accident in Ghotki.
In a tweet on Monday, PM Khan asked the minister for railways to reach the site and ensure medical assistance to the injured and support for families of the deceased.
He also ordered a "comprehensive investigation" into railway safety fault lines.
Meanwhile, two information centres have been set up in the Karachi division for information about the accident, a spokesperson for the Pakistan Railways said.
One has been set up at the Cantt Station in Karachi and one in Hyderabad.
The Karachi one can be contacted on 0331-2716334 and 0300-3754200, while you can contact the Hyderabad centre on 022-9200483, 022-9200258, 022-9200678 and 022-9200674.