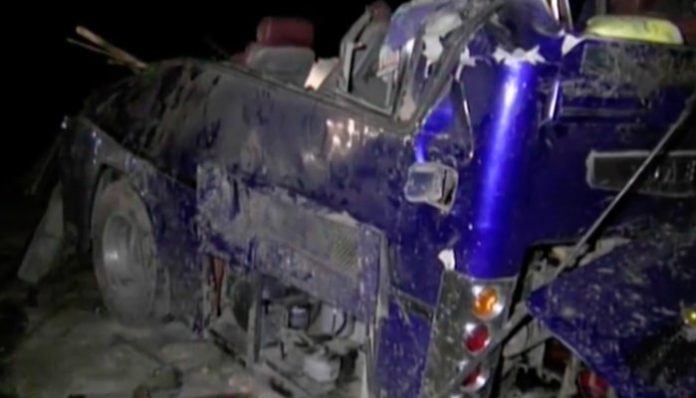 By Muhammad Luqman
A passenger train hit a bus at a railway crossing near Rohri town in southern Pakistan province of Sindh, killing atleast 19 people and injuring dozens on Friday, according to media reports.
Women and children had also died in the accident. The injured were shifted to Taluka Hospital Rohri and Civil Hospital Sukkur, Geo TV reported.
According to reports, the Pakistan Express train was on its way from Karachi to Rawalpindi when it hit a bus at an unmanned railway crossing.
"The rescue operation is underway. We have expanded the search area to one-kilometre radius around the crash site," said Commissioner Sukkur Division Shafiq Ahmad Mahesar.
Sindh Chief Minister Murad Ali Shah took notice of the incident and directed the Sukkur commissioner to dispatch rescue teams to the area.
The CM also called for an emergency to be declared at all hospitals in Khairpur, and directed the authorities concerned to ensure ample medicines and blood for those injured in the incident, English newspaper, Daily Pakistan Today reported.
This is the second worst railway accident during the last six months after an inferno in Tezgam Express train on October 31 last. 74 passengers were killed in that accident.
Other train accidents since September 2018 are:
September 16, 2018: Nine bogies of the Peshawar-bound Khushal Khan Khattak Express from Karachi derailed near Attock. 20 passengers were injured.
September 27, 2018: Another Peshawar-bound train derailed in which 11 bogies overturned in Sehwan, Sindh.
December 18, 2018: 12 children were injured as a passenger train crashed into a school van near Narowal, Punjab. Local witnesses said the accident happened due to dense fog and because the gate at the crossing was left open.
June 9, 2019: Twenty-three bogies of a Karachi-bound freight train derailed in Sukkur.
June 20, 2019: Three people were killed when a passenger train collided with a stationary cargo train at Makli Shah, near Hyderabad.
July 11, 2019: At least 24 people died when the Akbar Express had a parked cargo train at the Walhaar Station near Sadiqabad.
August 30, 2019: At least 12 people were injured when three coaches of Karachi-bound Rehman Baba Express, along with their locomotive, derailed near Toba Tek Singh.
October 4, 2019: At least two passengers were injured when two bogies of Peshawar-bound Rehman Baba Express derailed at the Taxila railway station.
October 21, 2019: 73 killed in Tezgam train inferno near Rahim Yar Khan after a cylinder bursts.