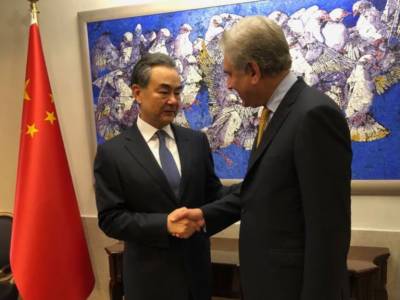 By Muhammad Luqman
The Chinese government´s top diplomat on Saturday held the first high-level meeting with his Pakistani counterpart since new Prime Minister Imran Khan took office.
According to media reports, China and Pakistan agreed to strengthen the strategic cooperation in a one-on-one meeting at the Foreign Office between Foreign Minister Wang Yi and Shah Mehmood Qureshi.
Foreign Minister Wang Yi is on a three-day visit to Islamabad during which he is scheduled to meet he president, the prime minister, National Assembly speaker and the chief of army staff (COAS).
Foreign Office Spokesman Dr Muhammad Faisal said delegation-level talks between the two delegations led by the two foreign ministers were also held at the Foreign Office.
"Chinese State Councillor Yi underscored Beijing's firm support to Pakistan's socioeconomic progress and development," the FO spokesperson said.
Yi also extended an invitation to Prime Minister Imran Khan to be the guest of honour at the International Import Expo in China.
"China-Pakistan Economic Corridor (CPEC), economic cooperation, cultural and educational exchanges and regional situation were discussed during the meeting," the spokesperson further said.
Chinese foreign minister will call on Prime Minister Imran Khan on Sunday and deliver greetings to him from Chinese President Xi Jinping over assuming the office of the prime minister of Pakistan.
The Chinese top diplomat will also meet military leadership during the visit, wherein security and defense cooperation between the two countries will be discussed.
Dr. Faisal termed the visit by Chinese foreign minister to Pakistan a 'very positive' development, saying that since the formation of the PTI government, visits by Iranian, US and Chinese foreign ministers signify the importance Pakistan enjoys in the region and in the world.
The Chinese state councilor is visiting Pakistan upon the invitation of Foreign Minister Shah Mehmood Qureshi, Chinese Foreign Ministry spokesperson Hua Chunying announced Thursday.