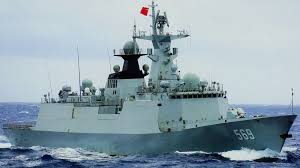 Web Desk
China has launched the second Type-054 frigate built for Pakistan, according to a statement issued by Pakistan Navy.
"The launching ceremony of 2nd ship of Type-054 Class Frigate constructed for Pakistan Navy was held at Hudong Zhonghua Shipyard Shanghai, China. The ceremony was graced by Commodore Azfar Humayun, chief naval overseer, China, as Chief Guest," Navy's media directorate said.
Speaking on the occasion, Commodore Humayun said that induction of these warships would significantly enhance Pakistan's maritime defence and deterrence capabilities.
Navy has described the Type-054 frigates as one of the most technologically advanced surface platforms to be included in its fleet.
The frigates are to be fitted with latest surface, subsurface and anti-air weapon systems and a range of electronic warfare, air and surface surveillance and acoustic sensors integrated through state-of-the-art Combat Management System, it said.
Pakistan Navy is buying four Type-054A/P Frigates from China. The order for the first two was placed in 2017, while an order for additional two frigates was given in 2018. The first frigate was launched in August last year. The frigates were originally scheduled to be delivered by 2021.
Pakistan had also signed a contract with Turkey in July 2018 to acquire four warships, with the first of the MILGEM corvettes to be delivered in 2023.