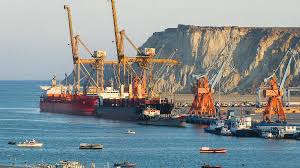 Web Desk
Pakistan's Prime Minister Imran Khan on Monday performed the groundbreaking of phase two of the Gwadar Free Zone (GFZ) and launched a number of other development and infrastructure projects including an expo centre, agriculture industrial park and three factories.
During a day long visit to Gwadar, the premier also inaugurated phase one of the GFZ, reviewed the progress on various development projects, and witnessed the signing of a number of memorandums of understanding (MoUs).
He was given a detailed briefing on the progress of the south Balochistan development package in line with the government's efforts of focusing on the province.
The Projects unveiled include: Gwadar Fertiliser Plant, Gwadar Animal Vaccine Plant,
Henan Agricultural Industrial Park, Hengmei Lubricants Plant, Gwadar Free Zone Phase Two and Gwadar Expo Centre.
In his address at the launching ceremony for the projects, the prime minister lamented that many areas in Pakistan including Balochistan had been left behind in development. He said development plans for Gwadar had been made for some time but the lack of any real implementation was due to common issues such as supply of water, electricity and gas, and connectivity with other areas.
"But in the time we are now seeing ahead, Gwadar is going to become a focal point from which all of Pakistan and especially Balochistan which was left behind [in development] will benefit," he added.
He said the "future of Gwadar" was being witnessed through the water and energy projects underway as well as the new international airport being constructed there which would connect Gwadar to other areas.
"I reiterate that any country can't meaningfully develop unless it has inclusive development and all areas develop," the premier said, adding that the government's biggest effort now was to develop neglected areas such as former Fata, Balochistan, northern areas and western districts of Punjab.
For Gwadar specifically, the prime minister announced a number of initiatives to promote human development such as a technical college, a hospital, university, cheap loans for farmers and poor households and a programme for uplifting of Gwadar's fishermen.
Prime Minister Imran said the government was also preparing to better facilitate and service investors through a one-window operation so they would be encouraged to come to free zones and set up plants and industries which could contribute to exports.
The increased exports would lead to wealth creation, correction of macroeconomic imbalance and job opportunities once demand for technical staff and trained labour increases, he added.
The premier said he wanted to see increased coordination between the federal and provincial governments to pull off the above steps to create a better atmosphere for investors.
He thanked China in particular and said Pakistan stood to benefit from its relations with the country. "Pakistan can benefit from its strategic location and also from the expertise of its friend China, which is becoming an economic power in the region," he said.
Imran further said his office would directly and regularly monitor all progress on development projects in Gwadar on a monthly basis.
Speaking about the security situation, the prime minister said peace in Afghanistan remained a major concern and that the result of any violence or civil war would be felt on Gwadar's trade with Central Asian states. He said the his government was involved in efforts and had talked to Iran as well to bring the opposing parties in the Afghan conflict towards a political settlement.