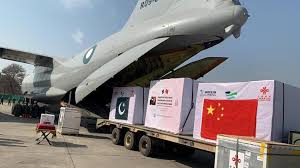 Web Desk
Pakistan has received its first doses of the coronavirus vaccine, with China donating half a million doses of the Sinopharm vaccine to the South Asian country.
An aircraft of Pakistan Air Force (PAF) carrying the shipment landed in the Pakistani capital Islamabad early on Monday, Special Assistant to Prime Minister, Dr Faisal Sultan said.
"Praise be to Allah, the first batch of Sinopharm vaccine has arrived! Grateful to China and everyone who made this happen," he said.
Sinopharm, a Chinese state-owned company, has developed one of two major Chinese vaccines to have been rolled out around the globe, alongside Sinovac's Coronavac vaccine.
Phase three trials for the Chinese CanSino vaccine are also ongoing in Pakistan, which granted emergency use authorisation for the Sinopharm, AstraZeneca and Sputnik V vaccines last month.
الحمد اللہ ہمیں سینوفرم ویکسین کا پہلا بیچ ملا ہے! اس کے لئے انتھک محنت کرنے والے ہر شخص کا شکر گزار ہوں۔ COVID کا مقابلہ کرنے میں NCOC اور صوبوں نے اہم کردار ادا کیا۔ میں اپنے فرنٹ لائن ہیلتھ کیئر ورکرز کو ان کی کاوشوں کے لئے سلام پیش کرتا ہوں۔ویکسین سب سے پہلے انہیں لگے گی۔ pic.twitter.com/zfIdwF1GqN

— Faisal Sultan (@fslsltn) February 1, 2021
Speaking at the handing over ceremony at Nur Khan Airbase near the capital, Foreign Minister Shah Mahmood Qureshi said that the arrival of the first batch of Covid-19 vaccines from Beijing was "practical proof" of the Pak-China friendship, English newspaper, Daily Dawn reported.
"This year is even more significant as it marks 70 years since we established diplomatic ties. We have planned to celebrate [the milestone] and open new doors of cooperation and friendship." he added.
He said that China had demonstrated this commitmentand initiated this campaign from Pakistan. This is practical proof reflecting Pakistan and China's friendship."
In addition to thanking Chinese President Xi Jinping, Qureshi also thanked his Chinese counterpart Wang Yi.
He added that China had stood shoulder-to-shoulder with Pakistan in the fight against the coronavirus. "The help that they provided us is in front of the nation and I am thankful to China for that too."
The foreign minister also gave a special mention to the People's Liberation Army (PLA) and Chinese doctors for coming to Pakistan and training medical health professionals on how to combat the virus.
FM Shah Mahmood Qureshi on behalf of govt & the people of Pakistan expressed gratitude to the Chinese govt for providing first batch of Sinopharm #vaccine. He thanked China for a befitting gesture that once again demonstrated that it stood by Pakistan in the hour of need. 🇵🇰🇨🇳 pic.twitter.com/PO0yT3EdOQ

— Government of Pakistan (@GovtofPakistan) February 1, 2021
"I want to thank the PAF [and] our pilots who flew the plane to Beijing and brought it back immediately. They did not rest for even a minute. They did this service for the people of Pakistan. We are grateful to PAF [and] we are proud of you," he said.
The minister stated that Pakistan and China had also started clinical trials for another Covid vaccine which have now been completed.
"The initial reports are very encouraging. If we are successful, then this will be encouraging news for frontline doctors who have taken countless risks to serve the nation. Our elderly, who are more vulnerable, will also be reassured that the vaccine has arrived."
Chinese Ambassador Nong Rong, speaking before Qureshi, said Pakistan was the "first country in the world to receive vaccines donated by the Chinese government", terming it a "manifestation of our brotherhood".
"Pakistan is our closest friend [and] is the priority for our cooperation. We would like to appreciate the Pakistan government for its facilitation in granting emergency approval to [Sinopharm's] vaccine and for conducting the Phase 3 trial [of CanSino vaccine]. We expect more cooperation to follow and more people can benefit from it."
The ambassador also observed that 2021 would mark 70 years of diplomatic ties between Pakistan and China. "We are proud of the friendship that is higher than mountains, deeper than the sea [and] sweeter than honey. Our hearts grow closer in the joint fight against Covid-19," he added.