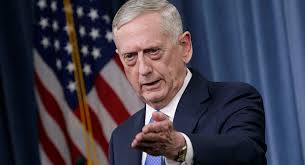 World Desk
US Secretary of Defence James Mattis will visit Pakistan on Monday, December 4, according to media reports..
He is going to be the second high profile US official to visit the South Asian country after the announcement of US Afghanistan policy announced by President Donald J. Trump on August 22 last.
Mattis embarked on a five-day trip to Egypt, Jordan, Pakistan, and Kuwait on Friday, the Pentagon said.
Mattis will land in Pakistan on December 4 (Monday) to meet Prime Minister Shahid Khaqan Abbasi and Chief of Army Staff (COAS) Gen Qamar Bajwa for the discussion on regional security, peace, Afghan conflict and other bilateral issues.
Mattis is scheduled to meet with leaders in each nation "to re-affirm the enduring US commitment to partnerships in the Middle East, West Africa, and South Asia", Pentagon said in a statement.
He is scheduled to meet with Egyptian President Abdel-Fattah el-Sissi and Defence Minister Gen Sedki Sobhi on Saturday.
Mattis will then go to Jordan on Sunday, where King Abdullah II will host a conference on combating extremism in West Africa. Attendees of the meeting in Jordan will include representatives from many countries in Africa and Europe.
His final stop will be in Kuwait Tuesday, where he will meet with Kuwaiti Emir Sheikh Sabah Al Ahmad Al Sabah.
On Nov 24, Foreign Minister Khawaja Asif had confirmed that Mattis would conduct a one-day visit to the country.
Mattis had earlier visited India in September and the Pentagon said the United States views India as a valued and influential partner, with broad mutual interests extending well beyond South Asia.
In 2016, the United States designated India a "Major Defence Partner" and Trump has sought to further boost military ties, praising India for contributing to regional peace and stability and purchasing US military equipment.
The statement by the US secretary of state was made during a meeting between Prime Minister Shahid Khaqan Abbasi and other high-ranking Pakistani officials during Tillerson's tour to South Asia and the Gulf region.