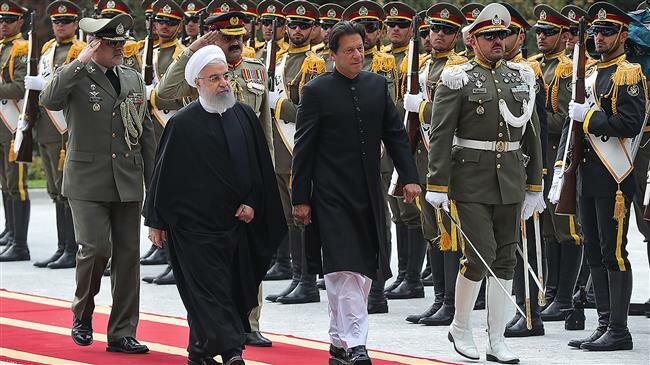 By Muhammad Luqman
Iran has assured Pakistan of meeting its oil and gas needs besides increasing electricity exports by ten times.
"Iran is ready to meet Pakistan's oil and gas demands … (and) we are ready to increase (electricity) exports to Pakistan ten-fold," President Hassan Rouhani said in a joint press conference with Pakistani Prime Minister Imran Khan in the capital Teheran on Monday.
He said cooperation between Chabahar port in southeast Iran and Pakistan's Gwadar port can be increased, and that Tehran could facilitate the construction of a railroad connecting Istanbul to Islamabad.
Pakistan and Iran plan to increase the bilateral trade to the mark of US $ 5 billion by the year 2021.
Hassan Rouhani said that he and visiting Pakistani Prime Minister Imran Khan had agreed to set up a joint border "reaction force" to counter terrorism.
"We agreed to create a joint rapid reaction force at the borders for combatting terrorism," Irani President said.
The Iran-Pakistan border is along southeastern Iranian province of Sistan-Baluchistan which has recently been the scene of frequent attacks on Iran's security forces.
Imran Khan's visit to Iran, the first since he took office last year, comes after gunmen who Islamabad says were based in Iran killed 14 passengers on April 18in its own Balochistan province.
"The security chief will sit down with his counterpart here and discuss (security) cooperation," Pakistan's premier Imran Khan told at the joint press stake out.
"We trust that both countries will not have terrorist activities from their soil … We will not allow any damage to your country from our soil," he said.
On Saturday Islamabad said it had evidence the "terrorist outfits" that carried out the attack in Balochistan have "training and logistic camps inside Iranian areas bordering Pakistan".
For his part, Khan said his visit to Tehran — the first by a Pakistani premier since Nawaz Sharif in 2016 — aimed to "find ways to increase trade and cooperation… in energy and other areas", noting that two-way trade was "very limited".