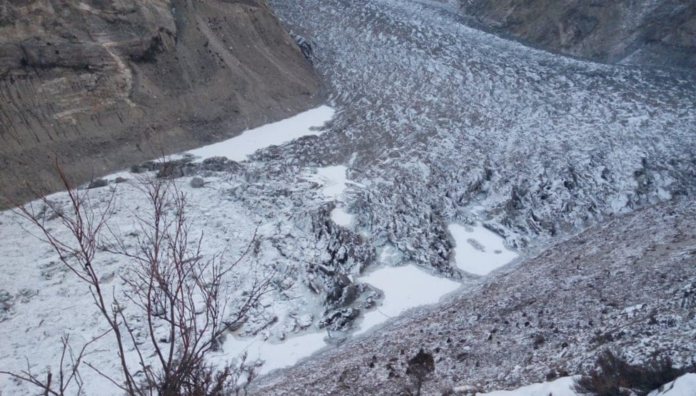 Web Desk
The meteorological department has issued a glacial lake outburst flood (GLOF) alert for Hassanabad, a mountainous valley in northern Pakistan, owing to a surge in Shishper Glacier's melting and stoppage of water flows.
" Due to the rising temperatures, the glacial lake is expected to erupt in the summer: Next three to four weeks are very crucial," warned the meteorologists in this year's first GLOF warning.
The alert has recommended continuous monitoring of the situation. The met department has suggested the installation of an automatic weather station at Hassanabad in Hunza.
"A station monitoring the water level and water discharge should be installed on Shishper Glacier till the arrival of Hydro Meteorological Equipment proposed by GLOF Project 2," the met office notification read.
In addition, the meteorologists said that immediate steps should be taken to ensure the discharge of water from the glacial lake, for which hydraulic siphon technique could be used to minimise the potential risk through water discharge.
According to the Met Department, a technical team will be visiting Hunza within next few days to install the automatic weather station on the lake.
Shishper is a surging or advancing glacier, formed around the beginning of the 20th century, after the then known as Hassanabad glacier in the north of the Hunza valley split into two.
The ice-dammed lake flooded twice last year damaging a small part of Karakoram highway besides threatening erosion of land downstream.
According to environmentalists, climate change is causing most glaciers worldwide to shrink, but due to a meteorological anomaly this is one of a few in the Karakoram mountain range in northern Pakistan that are surging.
This means hundreds of tonnes of ice and debris are pushing down the valley at ten times the normal rate or more, threatening the safety of the people and homes below.
Flash floods caused by glacial lakes, ice and rock falls, and a lack of clean and accessible water are all serious risks for those close to its path.
When a glacial lake bursts there is an enormous amount of not only ice, water and debris that falls through, but also mud and this has devastating effects, it basically destroys everything that comes in its way.
But repercussions of the Shisper glacier surge extend far beyond its path: The mighty Indus River is reliant on seasonal melt for more than half of its flow and changes in Pakistan's ice fields affect this.
That has implications not just for those living in its basin, but for the whole nation, which relies on it for much of its food.