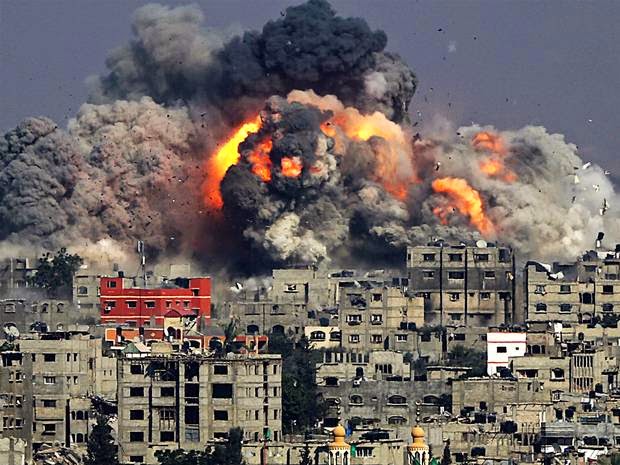 Web Desk
Pakistan has strongly condemned the air strikes by Israel in Gaza strip that resulted in deaths and injuries to so many innocent Palestinians including children.
According to a spokesman of Pakistan's Foreign Office, this is yet another reprehensible action during the holy month of Ramadan, following the increased restrictions on the fundamental freedoms of Palestinians, and the attacks in and outside Al-Aqsa Mosque.
The indiscriminate use of force by Israeli forces against defenceless Palestinians, causing death and injuries, defies all humanitarian norms and human rights laws, he added.
" Pakistan calls upon the international community to put an end to the blatant use of force and flagrant violation of human rights of the Palestinian people," the spokesman said.

Establishment of a viable, independent and contiguous State of Palestine, on the basis of internationally agreed parameters, the pre-1967 borders, and with Al-Quds Al-Sharif as its capital, is the only sustainable guarantee for peace in the region, he concluded.

Meanwhile, the UN human rights experts have expressed grave concerns about Israel's aggressive response to protests in East Jerusalem, and called on Israel, as the occupying power, to immediately lift its threat to evict hundreds of Palestinian households from their legally-protected homes.
Hundreds of Palestinians have been injured in clashes over recent days. The experts called on Israel to exercise full restraint in its policing of the demonstrations by Palestinians in Jerusalem, and to respect the freedoms of assembly, expression and religious worship.
"The recent scenes of Israeli police and security forces attacking large crowds of Palestinian residents and worshipers is only intensifying a deeply inflammatory atmosphere in the City. A militarized response to civilian protests against discriminatory practices only deepens social divisions. Respecting rights is the only path forward," the experts said.
The ongoing and threatened evictions of Palestinian families from their homes, primarily in the East Jerusalem neighbourhoods of Sheikh Jarrah and Silwan, are based on two Israeli laws: the Absentee Property Law of 1950 and the Legal and Administrative Matters Law of 1970. The 1950 law prohibits Palestinians from reclaiming their properties lost in the 1947-49 war, while the 1970 law allows Israeli Jews to re-claim properties lost during the same war. Evictions of Palestinian families under these laws have recurred many times over the years, raising deep concerns about impunity and lack of accountability.
"These laws are inherently discriminatory, both in intent and in application, and they violate fundamental principles of both international humanitarian law and international human rights law," said the experts. "An occupying power is prohibited from confiscating private property belonging to the protected population, and it must respect the body of existing laws which had governed the territory, unless it is absolutely necessary to alter them.