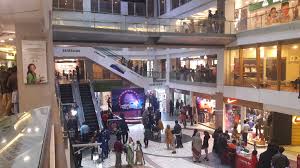 By Muhammad Luqman
Supreme Court of Pakistan has ordered the reopening of shopping malls across the country, which were closed as a part of lockdown to curb the spread of coronavirus.
Chief Justice of Pakistan, Justice Gulzar Ahmad headed the five-member bench that passed the order in Coronavirus suo moto case.
"If the shops are shut down, shopkeepers will die of hunger rather than the coronavirus," Pakistani media quoted the chief justice as saying.
On May 11, Pakistan relaxed coronavirus restrictions to open small markets and shops across the country to help people purchase garments and other necessities ahead of Muslim religious festival Eidul Fitr that is celebrated on the culmination of fasting month of Ramadan.
According to the notification issued by provincial governments, all shops and small markets will remain open from 08:00 am to 04:00 pm for four days a week while on Friday, Saturday and Sunday, only grocery shops, pharmacies and milk shops are supposed to cater to needs of the people.
However, the court has ruled that small markets should also remain open on Saturday and Sunday too.
Supreme Court orders reopening of shopping malls across countryhttps://t.co/fsqWWHbHTh

— Radio Pakistan (@RadioPakistan) May 18, 2020
The Supreme Court decision has been welcomed by the Chambers of Commerce and Industry of various towns of the South Asian country.
"We welcome this decision as it will help business community to come out of the crisis, it has been due to two months long coronavirus lockdown, " President Lahore Chamber of Commerce and Industry, Irfan Iqbal Sheikh said.
Secretary General of Anjuman-e-Tajiran Pakistan, Naeem Mir termed the directive as the falsification of government's coronavirus related narrative.
Pakistan has already resumed the domestic flight operation and inter-city bus service while trains are expected to be back on track from May 20.