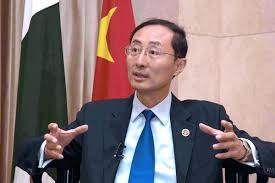 By Muhammad Luqman
Pakistan's President Mamnoon Hussain on Thursday honored Chinese Ambassador Sun Weidong with Hilal-e-Pakistan, civil award, for his services to bring both the countries closer. China's new Ambassador to Pakistan is H.E, Sun Weidong.
Sun Weidong who assumed his responsibilities as Chinese ambassador in Islamabad in June , 2013, is returning to Beijing on completion of his over 4 years tenure. He is China's 16th ambassador to Pakistan. During his stay in Islamabad, the historic China-Pakistan Economic Corridor (CPEC) worth US $ 50 billion had the take-off, kicking start the process of infrastructure and power projects development in this part of the world.
He first visited Pakistan in 2004, he served as Political Counsellor in India and he handled the region from his position in the Asian Bureau of the Ministry of Foreign Affairs in Beijing.
He also visited Pakistan in 2012 with the Chinese Foreign Minister, Yang Jiechi, who is now promoted to State Councillor. At the age of 51, Weidong is one of the youngest Chinese Ambassadors to Pakistan. Both he and his wife are fluent English speakers, and started their careers as teachers.