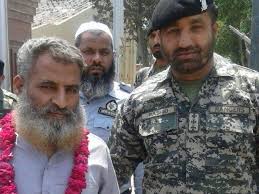 By Muhammad Luqman
The Indian government has repatriated a Pakistani citizen imprisoned in India for 23 years, according to the newspaper Express Tribune.
As a part of "backdoor diplomacy" between the two nuclear armed South Asian rivals, the repatriation seems to be response of Pakistan's last week repatriation of Indian patient who had mistakenly crossed the border five years ago.
The man released and repatriated by India on Tuesday, belongs to Kotli, Azad Jammu and Kashmir (AJK) . Syed Sajid Ali Bukhari had  mistakenly crossed the border entering Indian Occupied Kashmir (IoK).
On September 8, 1995, the Indian forces apprehended Bukhari in IoK and imprisoned him. He stayed in Srinagar jail for many years, his case, under RPC section 302, 307 and section 3, 5, was registered at Prempura police station.
Bukhari's citizenship was confirmed in July 2006 after which the process of repatriation was initiated. He was handed over to Pakistan's Punjab Rangers by the Indian Border Security Force (BSF).
Pakistani High Commission in New Delhi also played an important role in Bukhari's release. Hundreds of Pakistani and Indian citizens due to non-verification of citizenship are forced to spend their days behind bars in both the countries despite completion of their sentences.
Last week, a 22-year-old patient of sickle cell anemia, who had traversed into Pakistan's territory unintentionally five years ago, was handed back to India as a goodwill gesture.
Jitendra Arjunwar, a resident of Indian state Madhya Pradesh, had entered Pakistan from the Rajasthan border on August 12, 2013 following an argument with his family.
He was kept in Hyderabad jail after being sentenced to a one-year imprisonment by the court and shifted to Karachi on completing his jail term in 2014. Despite repeated correspondence with the Indian embassy, the Pakistani authorities could not ascertain Jitendra's status as an Indian citizen.