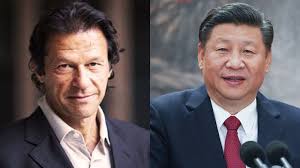 By Muhammad Luqman
Much-awaited second phase of Pakistan-China Free Trade Agreement will be signed during Prime Minister Imran Khan's visit to Beijing that kicks off on April 25 (Thursday).
"FTA has been finally concluded after eight years of negotiations and it will be inked by the commerce ministers of two countries during the visit of Pakistani prime minister," says Ambassador of China to Pakistan Yao Jing.
Under the FTA-Phase II, Jing said, China will provide market access to 90% of Pakistani commodities at zero rated duty, while Pakistan would give China market access to 65 percent tariff lines.
Prime Minister Imran Khan will attend Second Belt and Road Forum in the Chinese capital, Beijing from April 25 to 27, Chinese ambassador told a press conference in Islamabad.
The Belt and Road Forum provides a platform to countries participating in Belt and Road Initiative for exchanging views and experiences on regional connectivity, policy synergy, socio-economic development and trade and commerce.
The Chinese ambassador said world leaders, including heads of state and government from 37 countries, would attend the Forum's roundtable summit, but Pakistan being a major partner of the Belt and Road Initiative (BRI) was the most important of all.
"The Chinese Prime Minister and President are looking forward to the visit of Prime Minister Imran Khan to China where he will also hold bilateral meetings with the Chinese leadership to build more consensus on bilateral trade ties," Yao Jing said.
Leaders from 40 countries and delegations from over 100 countries, international organizations and corporate sector would participate in the event.
The Prime Minister, who will be accompanied by a ministerial delegation, will also hold meetings with several Heads of State, Government and corporate and business leaders.
Special measures are being contemplated under the agreement to safeguard interests of the Pakistani industries while promoting trade with China, says Advisor to Prime Minister on Trade, Abdul Razzak Dawood.
Several other agreements and MoUs are also expected to be signed during the visit to further boost cooperation between the two countries in diverse fields.
The Prime Minister will also attend Beijing International Horticulture Exhibition-2019 and address Pakistan Trade and Investment Conference in Beijing.
This will be the second visit of the Prime Minister to China. He had earlier paid a state visit to China in November last year.