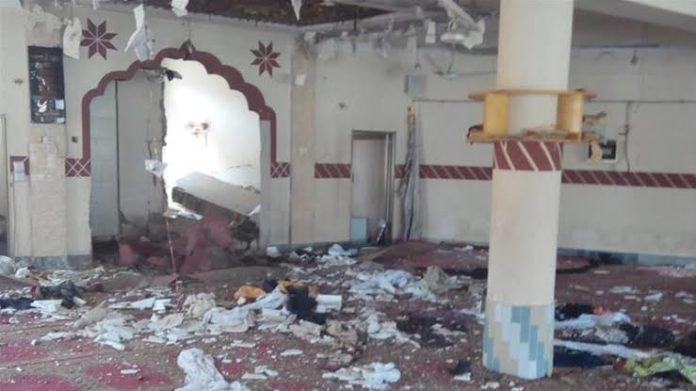 By Muhammad Luqman
Atleast 15 worshippers were killed and another 20 injured in a bomb blast in a mosque in South western Pakistan city of Quetta on Friday.
Deputy Superintendent of Police (DSP) Amanullah and the mosque's imam were among the deceased, According to Quetta Deputy Inspector General (DIG) Abdul Razzaq Cheema
The nature of the explosion, which took place inside the mosque during Maghrib prayers in Ghousabad neighbourhood, has yet to be determined, he said.
The injured and the deceased, according to English newspaper Daily Dawn, were shifted to Quetta's Civil Hospital while an emergency was imposed in all hospitals of the city.
Bomb disposal squad (BDS) and security personnel reached the crime soon soon after the blast and carried out search of the mosque premises for evidence.
The incident comes nearly a month after the son of DSP Amanullah, who was martyred in today's explosion, was shot dead.
DIG Cheema, while speaking to media, said that police had almost completed the investigation into Najeebullah's killing. He added that they will now ascertain whether the same group was behind both the attacks.
The director general of the Inter-Services Public Relations, Maj Gen Asif Ghafoor, tweeted that Frontier Corps personnel had reached the blast site and were carrying out a search operation along with police. "Every possible assistance be given to police and civil administration," the tweet quoted Army Chief Gen Qamar Javed Bajwa as saying, adding that "those who targeted innocents in a mosque can never be true Muslim."
Prime Minister Imran Khan has condemned the attack and regretted the loss of lives, while directing for the best possible treatment to be given to the injured. The premier also sought a report of the incident.
Balochistan Chief Minister Jam Kamal Khan, while condemning the incident, said that those who targeted worshippers have no religion or tribal affiliation. "They are only terrorists and deserve the harshest punishment," he said, adding that state enemies are once again trying to create a law and order situation in Balochistan.
PPP chairperson Bilawal Bhutto-Zardari and Jamiat Ulema e Islam chief , Maulana Fazalur Rehman have also condemned the blast. They expressed condolences at the loss of lives and demanded that the "planners of terrorism" in the province be brought to justice.