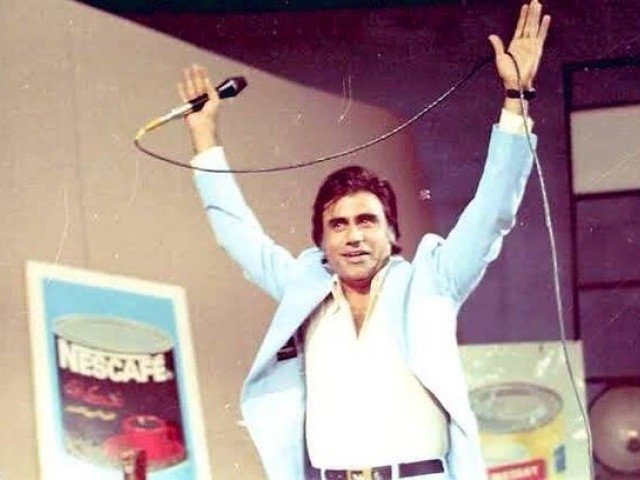 By Muhammad Luqman
Pakistan's renowned radio and television host Tariq Aziz passed away in eastern city of Lahore on Wednesday.He was 84.
Tariq Aziz was born in British Indian Punjab town of Jalandhar on April 28, 1936. After the creation of Pakistan, his family migrated to Pakistan and settled in Sahiwal, where he received his primary education.
He started his career with Radio Pakistan in early 1960s and later became Pakistan's first television newscaster with the establishment of state-run Pakistan Television on November 26, 1964.
His programme Neelam Ghar — later named Tariq Aziz Show and Bazam-e-Tariq Aziz — started in 1974 on Pakistan Television and continued for almost four decades. Aziz was also a poet and an actor and performed in several radio and television programmes as well as in films.
His first film, Insaniyat, was released in 1967. Other notable titles he acted in include Salgirah, Qasam Us Waqt Ki, Katari and Har Gaya Insan.
For his services to Pakistan's entertainment industry, he was conferred the prestigious Pride of Performance Award by the government in 1992.
Aziz also joined Pakistani politics and was a member of the National Assembly , the lower house of the parliament, from 1997-99.
Soon after the news of his death spread, the condolences started pouring in.
A chapter closes with the sad demise of Tariq Aziz. May his soul rest in peace. I will fondly remember his opening greetings in Neelam Ghar.

دیکھتی آنکھوں اور سنتے کانوں کو طارق عزیز کا سلام

إِنَّا لِلّهِ وَإِنَّـا إِلَيْهِ رَاجِعونَ

— Dr. Arif Alvi (@ArifAlvi) June 17, 2020
President Arif Alvi prayed for the anchor's soul to rest in peace. "A chapter closes with the sad demise of Tariq Aziz," he tweeted.
Prime Minister Imran Khan said he was saddened to hear about Aziz's death, who he said was an "icon in his time and a pioneer of our TV game shows".
Saddened to learn of the passing of Tariq Aziz, an icon in his time and a pioneer of our TV game shows. My condolences and prayers go to his family.

— Imran Khan (@ImranKhanPTI) June 17, 2020
PML-N President Shehbaz Sharif extended his condolences to Aziz's family and said that the TV personality was a patriotic person who had proven his mettle.
علم وادب سے محبت رکھنے والےممتاز فنکاراور پروگرام نیلام گھر کے نامورمیزبان طارق عزیز نے ریڈیو/ٹی وی کے ہر میڈیم پر اپنی قابلیت اور صلاحیتوں کا لوہا منوایا۔پاکستان ان کے ایمان کا حصہ تھااور وہ وطن کی پہچان اور پرجوش آواز تھے۔اللہ تعالی انہیں اپنے جوار رحمت میں اعلی مقام عطا فرمائے pic.twitter.com/krQo7vmiOS

— Shehbaz Sharif (Stay at home to stay safe) (@CMShehbaz) June 17, 2020
Actress Mahira Khan called the deceased anchor a "legend". She said that Pakistan was "indebted to him", adding that it was "truly, the end of an era".
Legend is, what legend does. He served us all. For so so long. Pakistan is indebted to you Tariq Aziz Sir. Truly, the end of an era.
May Allah bless you. My condolences to his family and all of Pakistan. 🙏🏼♥️🇵🇰#TariqAziz pic.twitter.com/kRflbgrfVu

— Mahira Khan (@TheMahiraKhan) June 17, 2020
According to English newspaper, Daily Dawn, Singer and actor Ali Zafar said he was confident that Aziz would never be forgotten. "You gave us an era. A childhood full of memories. You gave us gifts and so much more. We forget our heroes too soon. But I am confident you shall never be forgotten. Such was your presence."
Pakistan cricket team captain Babar Azam also said that Aziz's death was a "huge loss".