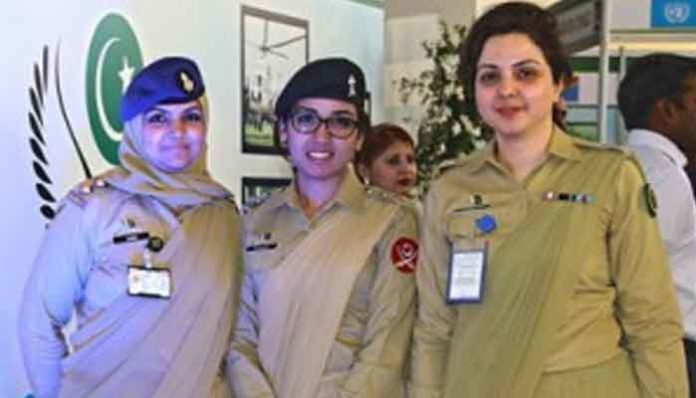 By Muhammad Luqman
Pakistan is deploying a female infantry engagement team in the war-torn African country of Democratic Republic of the Congo in May.
" Pakistan has already met the United Nations target of deploying 15 percent female military and staff officers in UN peacekeeping missions to enhance women"s participation in the world body"s flagship activity," Dr. Maleeha Lodhi, Pakistan's special representative in UN recently said.
Pakistani peacekeepers have been serving in DRC since 1999. "Our faith in peacekeeping, as an indispensable tool for the maintenance of international peace and security, is firm and abiding," Pakistan's envoy told a special committee of the world body .
The Special Committee brings together all stakeholders of UN peacekeeping — troop and police contributors, financial contributors, Security Council members and the UN Secretariat.
UN peacekeeping missions involving Pakistan cover about 70 operations in different parts of world. Pakistan's active and large-scale contribution to UN peacekeeping started in the 1990s. By the mid-1990s, Pakistan had deployed 10,000 troops to thirteen UN peacekeeping operations. At present, Pakistan is the third largest contributor to United Nations' peacekeeping missions the world over.
As many as 7,123 Pakistani peacekeepers – including 6,703 personnel of armed forces, 74 military experts, 66 staff officers and 280 police officials – are currently deployed for seven different UN peacekeeping missions. Of these, 3,486 personnel are performing duties to protect civilians against human rights violations and physical violence in Congo. So far, at least eight Pakistani soldiers lost their lives in this African country. Pakistani troops,are also performing peacekeeping duties in Darfur, Haiti, Liberia, West Sahara, Central African Republic and Sudan.
Other major contributers of peace keepers to UN missions are-Ethiopia (8,326), India (7,471), Bangladesh (6,772), Rwanda (6,146), Nepal (5,131), Senegal (3,617) and Burkina Faso (3,036).
At least 142 Pakistani soldiers had so far lost their lives, placing the country at number three after India (163) and Nigeria (150). Pakistan experienced major loss in Somalia in June 1993 when its 24 soldiers were killed in an ambush by a war lord in the capital Mogadishu.