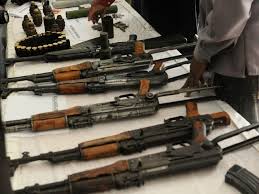 By Muhammad Luqman
Pakistan's interior ministry has suspended the licences for all prohibited bore weapons, through which automatic weapons have been registered.
A notification in this regard was issued last week.
The decision was taken in line with promise made by Prime Minister Shahid Khaqan Abbasi in his installation speech in August last.
According to the notification, the owners of automatic weapons will be able to get their weapons replaced with semi-automatic firearms or get Rs50,000 in return for their weapons from the district administration.
The owners of automatic weapons have until January 15, 2018, to submit their weapons or get them replaced following which all licenses will be considered revoked, the ministry announced.
During his speech on the floor of National Assembly after taking oath as the prime minister in August, Abbasi had said: "There is not a single country in the world which allows the licencing of automatic rifles for citizens. However, If you go outside parliament right now, you will see a private militia."
"Action will be taken against them if my cabinet allows for it. The federal government will seize all automatic weapons, compensating people in return," he had promised.
The recent incidents of shooting in the United States and the Western countries have sent ripples of fear across the world including Pakistan , forcing governments to put more restrictions on gun-keeping.