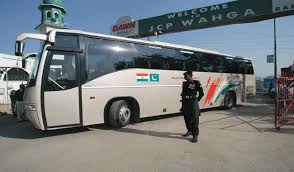 By Muhammmad Luqman
Pakistan has announced  that  it was going to suspend two road links with India from Monday, in another sign of escalating tensions between the two nuclear-armed neighbors after New Delhi revoked the special status of disputed Jammu and Kashmir region.
The two bus services — Dosti (Friendship Bus Service), which piles from Pakistan's eastern Lahore city to Indian capital New Delhi, and Amritsar Bus Services, which runs from Lahore to Amritsar — will be operated last time on Saturday.
The two services will be fully suspended from Monday, Communications Minister Murad Saeed  said.
"In line with the decisions of NSC (National Security Committee), Pak-India bus service is suspended," Pakistan Minister for Communications Murad Saeed said in a tweet.
In line with the decisions of NSC Pak-India bus service is suspended.

— Murad Saeed (@MuradSaeedPTI) August 9, 2019
The move came hours after Pakistan suspended second train link with India — Thar Express — which runs from Pakistan's Mirpur Khas district to Indian Jhodpur district.
On Thursday, Islamabad had also suspended Samjautha Expresses — a bi-weekly train service inking northeastern Lahore with New Delhi.
Tensions between Islamabad and New Delhi have further heightened following India's move to revoke the special status of Jammu and Kashmir — which allowed Kashmiri citizens to enact their own laws and prevented outsiders to settle and own land in the disputed territory.
Pakistan has also downgraded diplomatic relations with India, suspended trade and expelled the Indian high commissioner Ajay Bisaria.
Since their independence from the British rule  in 1947, the two countries have fought three wars — in 1948, 1965 and 1971 — two of them over Kashmir besides  Kargil conflict  in 1999.
According to several human rights organizations, thousands of people have reportedly been killed in the conflict in the region since 1989.