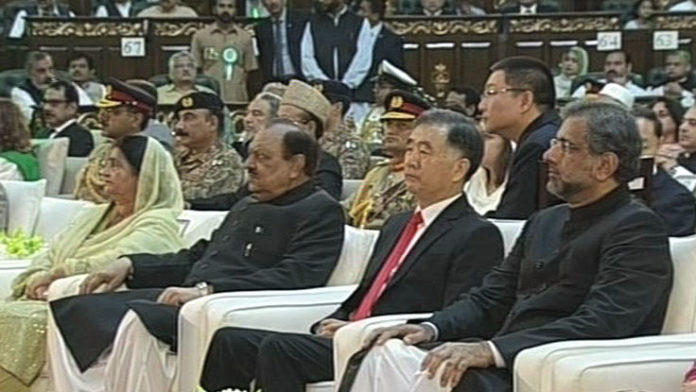 By Muhammad Luqman
Thousands of people poured into Lahore 's Race Course Park and Greater Iqbal Park grounds to witness the spectacular display of fireworks on the night between 13th and 14th August as the celebrations of 70th Independence Day kicked off across this South Asian nation.
The day dawned with 31-gun salute in the federal capital, Islamabad and 21-gun salutes in the provincial capitals of Lahore, Karachi, Peshawar and Quetta.
In the federal capital, President Mamnoon Hussain, Prime Minister Shahid Khaqan Abbasi and Chinese Vice Premier Wang Yang l jointly unfurled the national flag at the central Independence Day ceremony held at Convention Centre.
Chief Ministers of respective provinces performed the flag hoisting ceremonies in the provincial capitals. All thel major public and private buildings, roads and avenues have been tastefully decorated with national flags, portraits of the national leaders, banners and buntings to give a festive look.
A host of events including seminars, conferences, lectures, debates, speech contests, exhibitions, quiz competitions, stage dramas and mushairas have been arranged by different organizations in connection with the day.
The President along with Prime Minister, Vice Premier of China, Chairman Senate and Speaker National Assembly laid floral wreath at Monument of unsung heroes of democracy at the Parliament House.
The change of guards ceremony took place at the mausoleums of father of the nation, Muhammad Ali Jinnah in Karachi and poet philosopher Dr. Muhammad Iqbal in Lahore.
Independence Day celebrations will continue throughout the day.