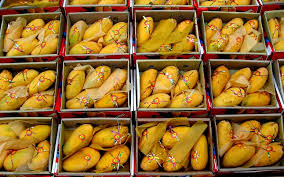 By Muhammad Luqman
Mangoes exported by Pakistan during the current season this year have fetched $80 million after prices of the fruit improved in world markets.
" As much as  115,000 tons of mangoes have been  exported by September 15 which exceeded the previous target of 100,000 tons" Pakistan Fruit and Vegetable Exporters, Importers and Merchants Association (PFVA) Patron-in-Chief Waheed Ahmed said .
Ahmed said that the price of the fruit remained stable at Rs75 to 85 per kilogramme at the farm level while exporters mostly focused on the quality and packaging standards of the edible product.
Pakistan is the sixth major mango producing country in the world , after India, China, Thailand, Indonesia and Mexico.  India's annual mango production is 18.7 million tonnes against Pakistan's just 1.6 million tonnes.
India, China, Thailand, Indonesia, and Mexico are the world leaders in mango production. India produces more than 18.7 million tonnes of mangoes every year.
Exporters body chief said that  extra attention to the demands of markets in United Arab Emirates, Iran Afghanistan, the United Kingdom and other European countries has also improved the overall yield.
"Mango exports would continue till mid of October and may touch 130,000 tonnes by the end of the current mango season., " he said.
He suggested exporters to exploit high-value markets of Japan, United States of America, South Korea and China. He also said that the export of mangoes is around 10 to 11 per cent of the total export of the horticulture sector, which can be further enhanced to 25 per cent in the next five years, thus amounting to $200 million in foreign exchange.
Pakistan exports 60 per cent of its mangoes through the sea route and out of the remaining 40 per cent, around 25 per cent are sent via land routes while 15 per cent are exported through air.