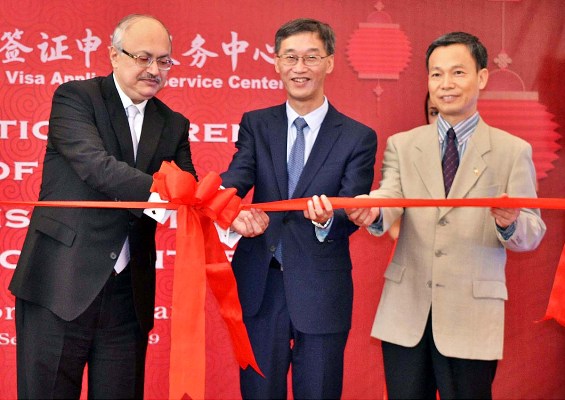 By Muhammad Luqman
China's visa application service centre has become functional in Pakistan's eastern city of Lahore to cater to the needs of Punjab province that forms country's 60 percent of businessmen ,visiting Beijing and the Chinese industrial hubs every year.
" Now the people  from central Pakistan will not to have to go to Karachi or Islamabad to submit visa applications; The centre will further strengthen ties between China and Pakistan, " Chinese ambassador Yao Jing said while speaking at the inaugural ceremony on Monday.
The ceremony was attended among others by Long Dingbin, Consul General of China in Lahore and  Yousuf Naseem  Khokhar, Chief Secretary of Punjab, Mr. Akram Wali Muhammad, Group Managing Director of Gerry's International, officials of the Punjab Government and members of the Chinese-Pakistani business community.
The new Chinese Visa Application Service Centerwill help facilitate the business community, students and tourist of Punjab. In addition to visa applications to mainland China, Hong Kong and Macau, the Visa Center also caters to applicants wishing to get their documents attested by Chinese missions.
Chinese Ambassador, Yao Jing emphasized that Sino-Pakistani diplomatic relations have entered a new era as with the blooming of the second phase of the China-Pakistan Economic Corridor, the traditionally strong relations have elevated to an economic partnership. The new Visa Application Service Center plays a major role in the elevation of bilateral relations, by making travelling between the two countries even easier. He expressed his hopes that the business community of the Panjab will take full advantage of the convenience of the new Visa Center.
"China hopes to now focus on furthering socioeconomic relations and in line with this, the Government is offering scholarships to Pakistani students interested to further their knowledge in China in various fields," said Yao Jing.
He also announced to set up Chinese Cultural Centre in Lahore very soon to help accelerate cultural exchanges between the neighbouring  countries.
The new Chinese Visa Application Service Center located in Gerry's Visa office on Queen's Road is equipped with state-of-the-art biometric enrolment and interview facility. The center operates between 9:00 am to 4:30 pm from Monday to Friday. Applicants book an appointment online before appearing at the Visa Center. At the time applicants submit their visa, they present their application forms and every relevant supporting documents along with their passport. Visa services are available with normal as well as expedited submission and delivery via post.