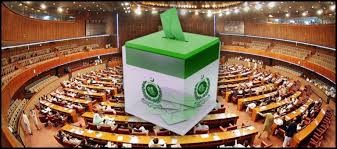 By Muhammad Luqman
General elections will be held in Pakistan on July 25, Wednesday to elect the new representatives for national assembly and provincial assemblies' seats. Analysts believe that the country is going to have a hung parliament this time, providing every political party to be a part of the future government.
These are the 11th general elections being held in the South Asian nation on one- man one -vote basis since 1970 that has been ruled by military dictators during half of its 70 years history.  Due to very vibrant social media and TV Channels and local and foreign observers, Wednesday polls are considered to be most-watched elections in the country's history.
Election campaign has ended on midnight between Monday and Tuesday as every political party and its  candidates made intense, last-minute efforts to muster  ever greater public support for the elections, as the Election Commission of Pakistan's (ECP) deadline for electioneering expired at that time.
Two main contenders have emerged among the dozens of political parties in the election fray: the Imran Khan-led Pakistan Tehreek-e-Insaf (PTI) and the Pakistan Muslim League-Nawaz (PML-N), which aims to win a second term despite the jailing of its founder, former Prime Minister Nawaz Sharif by an anti-graft court on July 6, just two weeks before the elections.
"The time has come for you to make this movement a success, and announce such a historic verdict which may sweep all those verdicts away that have made Pakistan a graveyard of justice," Sharif urged the masses to vote for PML-N on July 25, in an audio message from Adiala jail on Monday, where he is serving his 10 year sentence.
PML-N president and Nawaz's younger brother Shehbaz Sharif, in his address to a public gathering in Dera Ghazi Khan on Monday, claimed the PML-N was winning the elections despite all the injustices.
PTI chairman Imran Khan, who addressed the public in different parts of Lahore Monday night, lashed out at the opposing PML-N saying the former Punjab government carried out development "only in advertisements".
The cricketer-turned-politician urged the nation to change its fate come Wednesday. "We all have to go out on July 25 to vote for the PTI," he was quoted by Geo TV.
Polling will start  at 8am on Wednesday and conclude without any break at 6pm. As many as 12,570 candidates are contesting for a total of 849 seats of national and provincial assemblies in the general elections.
Around 1.6 million electoral staff are to be on duty on the election day. 449,465 policemen will be deployed, out of which 202,100 will be posted in Punjab and Islamabad while 100,500 will be stationed in Sindh. In Khyber Pakhtunkhwa, 87,269 policemen will be on duty as per media reports.
Approximately 800,000 law enforcement and army personnel will discharge duties for ensuring security on July 25.
The process of deployment of troops for free, fair and transparent conduct of General Election 2018 has been completed, the Inter-Services Public Relations said on Monday.
The ECP has planned special security measures for 17,007 highly sensitive polling stations throughout the country.
According to an ECP official, 5,878 of the polling stations declared as highly sensitive were from Sindh province, 5,487 from Punjab and Islamabad, 3,874 from Khyber Pakhtunkhwa and FATA, and 1,768 from Balochistan.