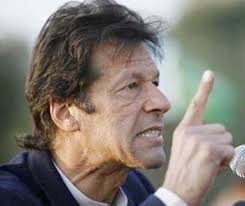 By Muhammad Luqman
Pakistan Tehrik Insaaf , the right-leaning political party led by cricketer-turned-politician Imran Khan has emerged as the single largest party in Wednesday's general elections in the South Asian country with lead in over 100 national assembly constituencies.
According to Geo TV ,  the PTI was leading in 114 seats against 136, the number required to form a government. Jailed former premier Nawaz Sharif's Pakistan Muslim League-Nawaz was ahead in over 60 seats and the Pakistan Peoples Party led in 45, with the other rest split among smaller parties.
While Sharif's party and the PPP denounced irregularities in the election, Khan could strike deals with independent lawmakers to form a coalition.
"The overwhelming sentiment in favour of PTI all over the country proves that the people of Pakistan now want IK as their leader and PTI as the party in power to bring about the much needed change this country has been waiting for," Naeemul  Haque , the spokesman of Imran Khan tweeted.
The major rival of PTI, Pakistan Muslim League (N) has outrightly rejected the results of the country-wide elections of national and provincial assembly seats due to what its President Shahbaz Sharif said,  "outright rigging".
" These are the dirtiest elections we have ever witnessed in Pakistan," President of PML (n),  Shahbaz Sharif told a press conference in Pakistan's eastern city of Lahore.
The Election Commission of Pakistan (ECP) denied the PML (N) claims, saying a new electronic results system suffered unexpected glitches. Despite the technical issues, "these elections were 100 percent fair and transparent", said Chief Election Commissioner Sardar Muhammad Raza  said.
Remaining oblivious of rejection of result by a number of political parties, Pakistan stock market has witnessed a bullish trend  on Thursday morning.
The Pakistan Stock Exchange saw a significant increase in activity during early trading, a day after the country voted for its second consecutive democratic transfer of power, as the benchmark KSE-100 index gained 767 points to reach 42,106 points.
Chairman Imran Khan's ex-wife, Jemima Goldsmith, has said that  after 22 years of humiliations, hurdles and sacrifices, her "sons' father is Pakistan's next PM".
In a congratulatory  tweet, Jemima stated that Imran's 'victory' today is "an incredible lesson in tenacity, belief and refusal to accept defeat".
She advised that the "challenge now is to remember why he entered politics in the first place".
Pakistan's next leader will urgently need to deal with a mounting economic crisis: four currency devaluations since December have made it likely the next government will seek another International Monetary Fund bailout.
The completion of the election clears the path for the IMF negotiation, which is what, in the short-term, investors care most about, said Hasnain Malik, the Dubai-based head of equity research at Exotix Capital.
Pakistan Peoples Party co-chairman Bilawal Bhutto Zadari, 29, expressed similar concerns on Twitter.
The Election Commission has rejected the allegations as baseless, with secretary Babar Yaqoob telling reporters that parties had not provided any evidence to back up their claims. Results were delayed because the agency's results transmission system – in use for the first time in Pakistan – broke down due to pressure overloads, he said in a separate press briefing.
Khan, who has led a relentless anti-graft campaign, had the momentum heading into the election, and is seen as the military's top choice for prime minister despite his denials. Sharif has clashed repeatedly with the military over the years and was jailed this month on corruption charges, which he is appealing, according to media reports.
Wednesday's voting was marred by several terrorist attacks, including a bomb blast near a polling station in Quetta that killed 31 people and a strike on a military convoy that claimed the lives of three soldiers and one poll worker. Still, it was the allegations against rigging that may impact Khan's ability to form a government.
(This is developing story)