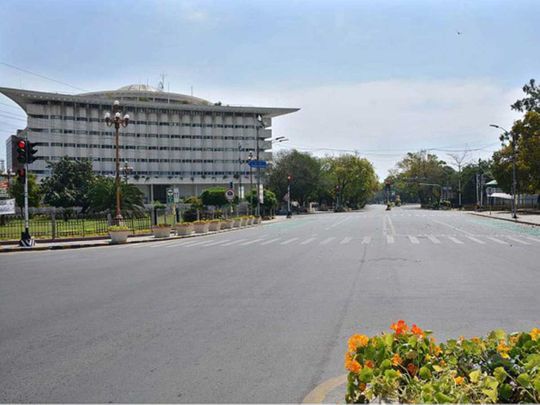 By Muhammad Luqman
Pakistan's Prime Minister Imran Khan has announced a two-week extension to the ongoing nationwide shutdown to curb the COVID-19 spread while allowing some industries to reopen.
The first industry to reopen would be that of construction as according to Imran Khan, this is a low risk sector .
"The restrictions of public gatherings will continue for another two weeks," Khan said in a televised address to the nation on Tuesday after a meeting of the National Coordination Committee , the body entrusted with the task of overseeing efforts to deal with coronavirus crisis.
Pakistan, which has already completed a three week lockdown, has reported 5,716 COVID 19 cases with 96 deaths.
However, he said, the government had decided to reopen several "low-risk" industries, including construction, agriculture, e-commerce, paper and packaging and others to resume the business activities, and to help stop an economic meltdown caused by the coronavirus crisis.
PM @ImranKhanPTI announces to extend partial lockdown across the country for next two weeks https://t.co/u3rshD9tHf pic.twitter.com/IrsmdTzEfA

— Radio Pakistan (@RadioPakistan) April 14, 2020
"I totally understand the hardships being faced by the poor due to the lockdown. That's why we have decided to move forward with a policy, which can not only ensure social distancing but also reduce the economic burden on the low-income class," Imran Khan said.
Prime Minister Khan said that government would ensure the smooth harvesting of wheat, the country's main crop, which has recently commenced. There would be no ban on movement of machinery and labor for the wheat harvesting, he added.
"The number of coronavirus cases, and deaths are way lesser than our projections due to the lockdown," Khan said, adding the COVID-19 cases and the deaths were 30% and 50% respectively of the government's projected numbers.
Last month, Pakistan had imposed a countrywide lockdown closing down shops, markets, shopping centers, and government, and private offices except for emergency service, in a move to curb the COVID-19 cases. It, later announced a two-week extension in the restrictions until April 14.
However ,traders bodies have rejected the extension, and announced to resume their businesses from Wednesday.
Trade associations from three provinces — Sindh, Balochistan, and Khyber Pakhtunkhwa (KP) — on Tuesday announced that they were going to reopen their shops, and markets. Whereas, traders from Punjab has demanded partial reopening of businesses.
" We had a meeting with Industris Minister Aslam Iqbal. Government should allow the re-opening of atleast small shops," Naeem Mir, Secretary General of All Pakistan Anjuman-e-Tajiran said.