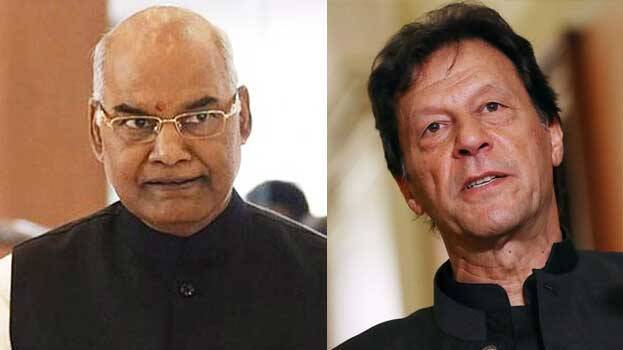 By Muhammad Luqman
Pakistan has decided to refuse a request by India to allow its president to use Pakistani airspace for his flight to Iceland, Foreign Minister Shah Mehmood Qureshi announced on Saturday.
The decision to deny Indian President Ram Nath Kovind the use of Pakistani airspace was approved by Prime Minister Imran Khan in view of India's continuing oppression of the people in occupied Kashmir, the minister told state broadcaster Pakistan Television (PTV).
Indian President Ram Nath Kovind is embarking on a tri-nation visit on Monday i.e. Iceland, Switzerland and Slovenia.
Foreign Minister Shah Mahmood Qureshi said New Delhi's "barbarism" in Kashmir was a serious issue which he would take up with the United Nations Human Rights Council.
He said that 34 days have elapsed since Indian authorities imposed a crippling curfew in occupied Kashmir before revoking the region's special autonomy.
The minister said Pakistan has shown "restraint" in reaction to India's moves in Kashmir but that New Delhi is refusing to budge from its stubbornness and denying basic facilities to the residents of occupied Kashmir.
"In view of this, we have decided to not allow the Indian president to use our airspace" for his flight to Iceland, he told PTV.
The decision comes at a time of high tension between Pakistan and India following the Indian government's decision to unilaterally revoke Article 370 of its constitution, which granted special autonomy to occupied Kashmir. A communications blackout and heavy restrictions on movement imposed by the Indian authorities from the eve of this development have been in place for over a month now.
Following India's decision to repeal Article 370, Pakistan downgraded diplomatic relations with New Delhi and suspended all bilateral trade. The Indian ambassador was asked to leave and train and bus services with India were also suspended.
The government has also been considering closing the entire Pakistani airspace to Indian flights.
Federal Minis­ter for Aviation Ghulam Sarwar Khan had told a press conference earlier this week that the government had so far not taken any decision to close the eastern airspace to commercial flights from India; however "we have reserved the right to do so and it would be utilised at an appropriate time".
In February, Pakistan had closed its airspace to Indian traffic after aerial dogfights following the Pulwama attack ratcheted up tensions between Islamabad and New Delhi. It reopened its skies for all civilian traffic in July, ending months of restrictions affecting major international routes.