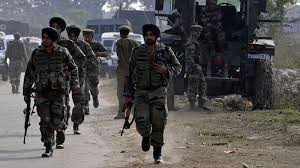 By Muhammad Luqman
Pakistan has called for an independent investigation into the alleged use of chemical weapons against civilians in Indian-held Kashmir.
"We have noted with serious concern the media reports [relating to the use of chemical weapons]," Foreign Office spokesperson Dr Muhammad Faisal said at a weekly news briefing in Islamabad on Thursday.
The spokesperson was asked if Pakistan planned to raise at the international fora the use of chemical weapons by Indian forces, causing "deaths of many".
"Should these reports find credence, this use [of weapons] would constitute a breach of Indian international obligations under the Chemical Weapons Convention."
"We call for independent investigations into such reports, including through Organisation for the Prohibition of Chemical Weapons (OPCW), Faisal added.
The spokesperson noted that Indian policy of denying access to any independent observers raised legitimate concerns.
In September, Amnesty International reiterated its call for a ban on pellet-firing shotguns used by Indian forces in occupied Kashmir to quell civilian protests. In a report, the rights group said it had interviewed 88 people whose eyesight had been damaged by the metal shot from the pump-action guns.
Government forces in Indian-held Kashmir have been using pellet guns since 2010 as a "non-lethal" weapon following wide-scale civilian protests against Indian rule.