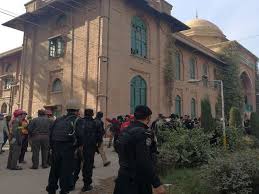 By Muhammad Luqman
At least nine people were killed and 10 others injured as three terrorists attacked an educational institution in Peshawar, the north-western Pakistan city on Friday.
" Three Burqa clad terrorists came to the Agriculture Training Institute by a rickshaw," Inspector General Khyber Pakhtun Khawa Police said.
The terrorists were killed in a joint operation carried out by the Pakistan Army and police.
Heavy contingent of police, Frontier Constabulary and army surrounded the campus before launching the operation.
The area was reverberating with heavy gunfire while a huge explosion was also heard, media reported..
Inter-Services Public Relations (ISPR) ,the media wing of the Pakistan armed forces, announced in a statement that all the terrorists have been killed.
Seven students, four security officials, two watchmen and a journalist were among the injured, according to TV Channels..
Five burqa-clad attackers reportedly entered the Agricultural Directorate on an auto-rickshaw .
Peshawar's main University road remained closed for traffic during the operation.
The injured have been taken to Khyber Teaching Hospital for treatment where three of them were in critical condition, media reports said..
The ISPR said two wounded soldiers were taken to the Combined Military Hospital for treatment.
According to Reuters news agency, the banned Tehreek-e-Taliban Pakistan has claimed responsibility for the attack.
Pakistan Tehreek-e-Insaf chairman Imran Khan took to Twitter and applauded the police and army for containing damage and concluding the operation.
"Saddened by condemnable terrorist attack in Peshawar this morning. My prayers to to the victims and their families," PTI Chairman tweeted..
Taliban gunmen killed at least 20 people last year in an attack on Bacha Khan University in Charsadda.
Over hundred children were killed in a militant raid on Army Public School on December 16, 2014.