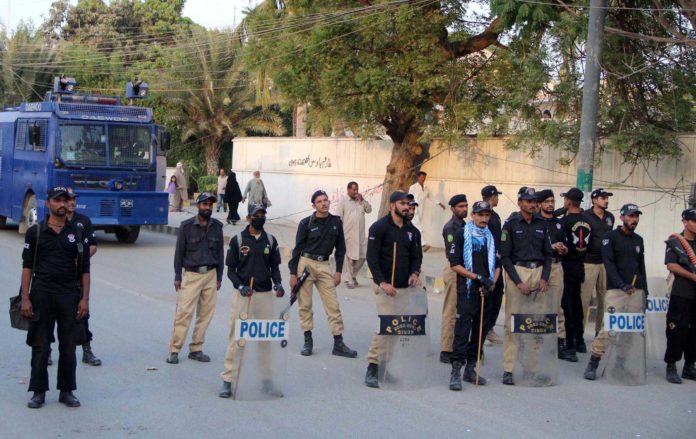 By Muhammad Luqman
A policeman was martyred during clashes with protesters after an operation to clear Faizabad interchange began early Saturday morning, according to media reports.
Police said the cop suffered a deadly blow to the head in I-8/4 sector as protesters pelted stones at security officials during the operation.
Heavy contingents of police, FC and Rangers were deployed to the interchange, where they are using tear gas and water cannons to disperse the protesters after the capital was paralysed due to sit-in which has been ongoing for almost three weeks. According to reports, dozens of protesters have been detained.
The operation carried out on court orders following the expiry of the midnight deadline set by the district administration.
Around 8,000 security officials are taking part in the operation, including 3,000 FC personnel.
Law enforcement personnel are taking action against the Islamabad protestors from five different directions. Several police and FC officials were injured as protesters pelted stones at them. 67 injured have been brought to hospitals in Islamabad and Rawalpindi. According to a PIMS spokesperson, 14 security officials are among the 46 injured brought for treatment, media channels reported.
According to district administration, the Faizabad interchange is now in control of authorities as the operation continues in the area. Security officials are conducting operation against the protesters from five directions: Khanna Pul, GT Road, Islamabad Club Road, Express Highway and Murree Road.
Protesters have blocked Bhara Kahu leading to Murree. They have also set fire to two vehicles at Faizabad Chowk.
Schools situated at Murree Road have been evacuated because of the tear gas shelling in the area.
DC Islamabad Captain (retd) Mushtaq said, "We have issued orders to commence the operation."
Minutes prior to starting the operation, law enforcement agencies (LEAs) removed the barbed wire fences surrounding the sit-in area, where protesters belonging to a religious party had been demonstrating for 20 days.
Besides Islamabad, protesters and law enforcement officials are facing off in Karachi, Lahore, Faisalabad, Gujranwala and Sambrial in Sialkot district. In Karachi, the protesters have blocked the roads leading to the Numaish Chowrangi, where they are staging their sit-in. According to latest updates, a large contingent of police along with water cannons has arrived on site.
In Sambrial, protesters set tires alight on the Sialkot-Wazirabad road.