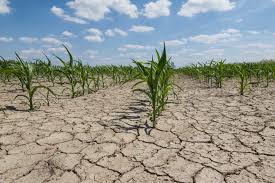 By Muhammad Luqman
Pakistan's Meteorological Department has warned that country's southern provinces-Sindh and Balochistan are in the grip of drought due to low rainfall during Monsoon season and decreased flows in the rivers.
"During July-August 2018, below normal rainfall was recorded over most of the southern parts of the country. It was well below normal (-30.4%) and during (May-August) 2018, below normal (-24.4%) rainfall was recorded over Pakistan, " the drought alert issued by PMD stated. During Monsoon season, the rainfall has been below normal in Sindh by 70 percent, 50 percent in Balochistan, 50 percent in Khyber Pakhtun Khawa , 8 percent in Punjab and 19 percent in Kashmir and Gilgit Baltistan.
Due to deficient summer and monsoon rainfall, moderate drought like condition has emerged over most of the southern parts of Pakistan. The moderate to severe drought is prevailing in most parts of Sindh including Tharparkar, Mityari, Hyderabad, Jacobabad, Dadu, Karachi, Kambar Shadadkot, Umerkot, Sanghar, Sajwal, Shaheed Benzairabad, Jamshoro and Khairpur). In Balochistan,  the districts affected by drought include-Dalbandin, Gawadar, Jiwani, Panjgur, Pasni, Nokkundi, Ormara, Quetta and Turbat) and mild to moderate drought at few places of south Punjab (Multan and Mianwali) and GB (Bunji, Chilas, Gilgit and Gupis). Drought conditions may get severe in the coming days especially in southern parts of the country.
Dry conditions will cause water stress in the cultivated lands of the country due to limited supply of irrigation water for Kharif crops.
The water availability in Tarbela dam is at maximum level. However,  Mangla dam is almost half filled maximum conservation level (almost 65 feet) at Mangla reservoir. Small dams (situated near Islamabad)and ground water conditions have been significantly improved at most places of Islamabad and Rawalpindi. Due to less water in Mangla reservoir and minimal expected rainfall during next 3-months, the water shortages are most likely for sowing of Rabi crops.