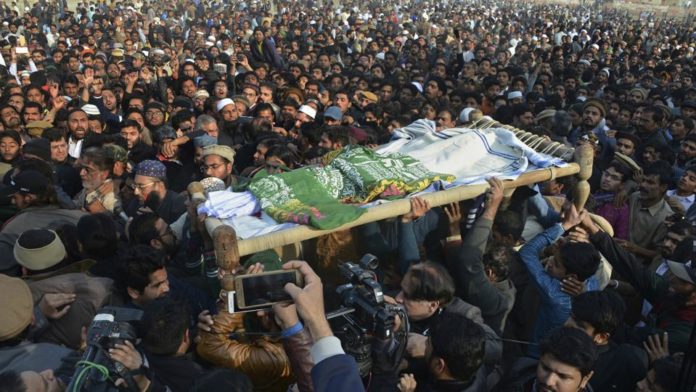 By Muhammad Luqman
Kasur, the eastern city of Pakistan, located just 18 kilometers from international border with India,  remained in the grip of violent protests against the rape and murder of minor girl for the second consecutive day on Thursday as the protesters ransacked the district headquarters hospital and damaged the machinery and equipment.
Zainab, a  minor girl, had gone missing on January 4 when she went out of the house to visit under aunt's house. Her body was found in a garbage pile near Kashmir Chowk five days after her disappearance.
Protests erupted in the city on Wednesday after news of the incident sparked nationwide public outrage. To add to the misery, police firing on protesters, who were venting their anger over the incident, left two people dead.
Residents are still protesting on Kali Pul Chowk, whereas the Ferozepur Road, linking Kasur to nearby towns and cities, remains blocked. Markets also remain closed in protest against the incident on the second consecutive day.
The lawyers boycotted the courts on Thursday on the call of the Punjab Bar Council.
Two policemen and as many civil defence officials have been held for firing on protesters while murder charges have been included in two FIRs registered against 16 unidentified policemen on the complaints of the deceased's brothers.
Civil society have organized protests against the murder of the little Zainab in Lahore and other cities of Pakistan. In Lahore, the protesters blocked the route of Metro Bus on Ferozpur road that links the provincial capital with Kasur.
Punjab Chief Minister Shehbaz Sharif visited Zainab's residence early Thursday morning. In his conversation with the deceased's parents, Shehbaz promised not to rest until the culprit(s) responsible for the heinous crime is brought to book, according to TV Channels.
The chief minister was accompanied by senior government officials and the Punjab government spokesperson.
Moreover, overnight, officials of an intelligence agency collected evidence and recorded the statements of victim Zainab's family.
Zainab's initial postmortem report stated that she was strangled to death after being raped multiple times. However, officials said the exact cause of death would be determined after further forensic examination.
Zainab's parents claimed that police did not cooperate in finding their child after she went missing. "If the police would have acted immediately, the culprit would have been caught," said Zainab's father.
The funeral prayers of the deceased were offered Wednesday afternoon, led by Pakistan Awami Tehreek's Tahirul Qadri.
Chief Justice of Pakistan Justice Saqib Nisar  has taken suo motu notice of the case, ordering the  Inspector General of Police, Punjab to submit a report to the court within 24 hours.
(This is developing story)