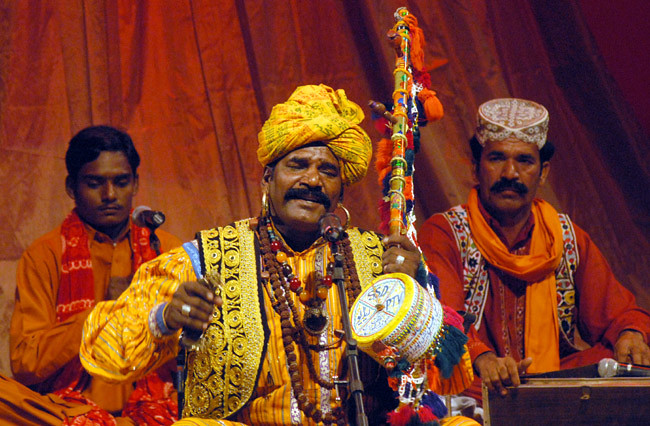 By Muhammad Luqman
Renowned folk singer from Pakistan's Cholistan region, Krishan Lal Bheel passed away in Rahim Yar Khan on Thursday. He was 67.
According to local  media  reports, the singer had been admitted to a hospital five days ago. He was suffering from a serious kidney illness.
A recipient of President's Pride of Performance Award, Bheel was known for his performances in the folk festival 'Lok Mela' at National Institute of Folk and Traditional Heritage (Lok Virsa). He had also performed at annual Daachi festival many times.
Bheel often performed in his local language Marwari, but he was also fluent in other regional languages including Hindi, Sindhi, Punjabi, Urdu, Saraiki, Registani and Rajasthani.
The singer had repeatedly appealed to the government to restore the monthly financial assistance, as he and other artists had spent their whole lives in promoting art and culture of Pakistan.
In a recent interview with official news agency APP, Bheel had said he wanted to pass his art to the future generations. "My wife also performs in the troupe despite the fact that women from our tribe are not generally allowed to do so," he said.
He had said that he started singing in 1970 and had performed in Norway, Germany, Dubai and Turkmenistan as well.
Expressing condolences over the dealth of the folk Singer, Sadaan Pirzada the CEO of Rafi Pir Group recalled how Bheel was one of the main attractions of the Rafi Pir Puppet festival. " I can say that he was my singer as I did around one hundred concerts with him across the country. He was the name of an era and his death is a big loss for the whole country and no one can fill his gap."
Pirzada highlighted that Bheel's contribution to promoting music from Cholistan region, exceeds that of others." I believe that in Cholistan region no singer can highlight the local culture the way Kishan Laal did. He told the world about the area's culture, music, and rich traditions. He was a diamond and most dominated folk singer of his era and I pay tribute to his music services," he said.