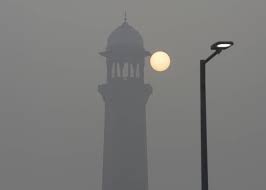 By Muhammad Luqman
The Smog presently blanketing central Pakistan province of Punjab is expected to end next week as meteorological department has predicted a westerly wave induced spell of rains by November 15.
" The westerly wave may cause light rain over Punjab and other upper parts of Pakistan, bringing an end to weeks long dry spell and Smog," says Lahore –based Chief Meteorologist, Muhammad Riaz.
However, foggy conditions may continue to prevail over Punjab province in the mornings and evenings even after the short wetspell.
Pakistan's central region including Punjab's plains have been in the grip of Smog since third week of October. Environmentalists term it a climatic catastrophe caused by the burning of stubbles of paddy crop in Indian states of Punjab and Haryana. In Pakistani Punjab, the farmers destroyed the stubble in the middle of October by burning. However, the stringent laws imposed by the authorities have helped minimize the open burning of the crop residues and the solid waste.
" According to latest NASA images, the number of burning sites in Pakistani Punjab's paddy belt are very few as compared to hundreds in Indian states of Punjab and Haryana ," says Saif Anjum, Secretary Environment of Punjab.
The smog-related traffic accidents in Punjab have led to deaths of over 100 persons over the last three weeks. In northern Punjab district of Chakwal, a bus accident claimed 27 lives only on Thursday morning.
The smoggy weather has also affected the growth of crops in the agricultural province of Punjab , casting ill-shadows mainly on the crops of corn , fodder and vegetables. Farmers fear that the produce may be halved if the conditions continue to prevail for another month.
" Due to overcast skies, the plants don't get enough light needed for the photosynthesis process. This is going to affect the per acre yield drastically ," says Tariq Mahmood, an agriculture expert.
The central Pakistan plains usually have foggy weather during the months of December and January due to less rains. But since last year, on account of increase in the trans-boundary emissions and in-land pollution, Lahore and other parts of Central Pakistan have been experiencing the smog problem even during the months of October and November. Pakistan blames the easterly winds from India for the problem that include the green house gases and other particulates.