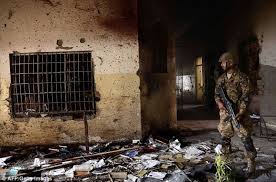 By Muhammad Luqman
Militant commander and mastermind of 2014 Army Public School massacre in north western Pakistan, Umar Mansoor has been killed .
Pakistani media has reported an email based statement of the spokesman of defunct Tehreek-i-Taliban Pakistan (TTP) as a confirmation.
The TTP's claim has not been independently verified.
The statement comes a day after six suspected TTP militants were killed in a US drone strike targeting alleged militant hideouts in the Pak-Afghan border region close to Kurram Agency.
Umar Khalid Khorasani aka Abdul Wali, the chief of the outlawed Jamaat-ul-Ahrar (JuA), was wounded in the drone strike that took place in Afghanistan's Paktia province.
Umar Mansoor, who had claimed responsibility for the deadly attack on Bacha Khan University in 2016, was said to be the mastermind of 2014's massacre at the Army Public School in Peshawar which left at least 144 people, mostly children, dead.
The 2014 Peshawar school massacre was a terrorist attack conducted on 16 December 2014 by six gunmen affiliated with the Tehrik-i-Taliban Pakistan (TTP). The militants entered the Army Public School in Peshawar, Pakistan, and opened fire on school staff and children, killing 141 people including 132 schoolchildren, ranging between eight and eighteen years of age. A rescue operation was launched by the Pakistan Army's Special Services Group (SSG) special forces, who killed all six terrorists and rescued 960 people.