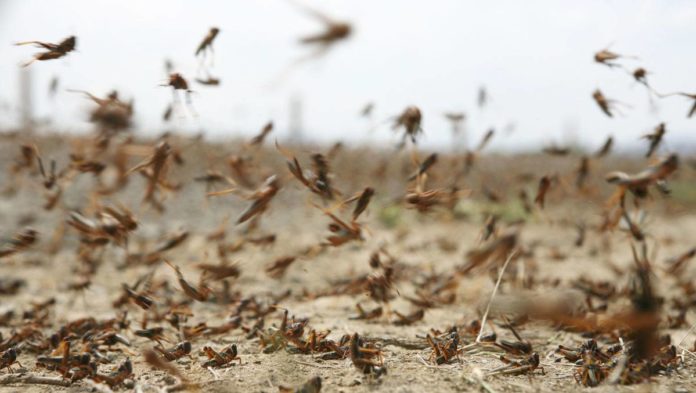 By Muhammad Luqman
World Food and Agriculture Organization has warned of small scale breeding of Locust in Southern Pakistan deserts of Thar and Cholistan in addition to Lasbela areas.
According to the Waning re-issued by Pakistan's Meteorological Department, the number of the insects may increase slightly during the third week of August due to recent Monsoon rains.
However, the entomologists of the view that the warning issued by the FAO does not sound any dangerous situation for Pakistan. So the insects may remain restricted to specific areas. But in the past, the swarming by millions and sometimes billions of the insects had been dangerous for the crops.. During plagues during 1960s and 1970s,, desert Locusts used to spread over an enormous area of some 29 million square kilometres, extending over or into parts of 60 countries. This is more than 20% of the total land surface of the world. During plagues, the Desert Locust has the potential to damage the livelihood of a tenth of the world's population.
According to FAO report, the Desert Locust situation continued to remain calm during July. Control operations were undertaken in Iran and, to a lesser extent, in Algeria where small-scale breeding had occurred.
Low numbers of adults appeared in the summer breeding areas of Mauritania, Sudan and along both sides of the Indo-Pakistan border. Good rains fell in all summer breeding areas of the Sahel in West Africa and Sudan, in the interior of Yemen and along the Indo-Pakistan border. Consequently, small-scale breeding is expected to occur in all of these areas during the forecast period, causing locust numbers to increase slightly. Regular surveys should be conducted in all areas wherever possible.