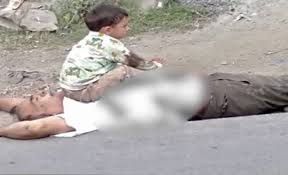 By Muhammad Luqman
Pakistan's Foreign Minister Shah Mahmood Qureshi has said that the barbarism of Indian occupation forces in Kashmir has reached new peaks with the cold blooded killing of a 3 year old child's grandfather right in front of his eyes.
"This level of barbarism is unparalleled and the incident falls under the ever-growing list of extrajudicial killings in the valley," Qureshi said in a statement issued on Wednesday.
He said that the European Union has been apprised of the situation and it should take immediate notice of the incident. He reiterated Pakistan's resolve to raise its voice on atrocities in Kashmir, including this incident, at every forum.
Shah Mahmood Qureshi said that India has shut down internet access for the Kashmiris to muzzle their voices and to cover up its terror activities and extra-judicial killings. He also stressed on human rights organizations to speak out for the oppressed Kashmiris for the sake of humanity.
A 3 year old child sits on his grandfather's lifeless, bullet ridden body in Indian Occupied Jammu & Kashmir. This is the real face of Modi's fascist India. #KashmirBleeds pic.twitter.com/50Vrv1LIrG

— Shah Mahmood Qureshi (@SMQureshiPTI) July 1, 2020
Meanwhile, the family of the elederly person killed in Indian Occupied Kashmir's Sopore district on Wednesday morning have said hat Bashir Ahmad Khan was killed by the Indian forces personnel and not by the Kashmiri freedom fighters as claimed by the Indian government.
The civilian, Bashir Ahmad Khan, 65, and a CRPF trooper were killed while three CRPF personnel were injured after a Kashmiri group attacked the personnel deployed in the Model Town area of Sopore in the Baramulla district. Pictures of the killed civilian and his three-year-old grandson went viral on social media and evoked a sense of outrage over the incident.
In one video, the wife of the killed civilian has alleged that government forces placed the child on the civilian's body. "They killed him and then kept his three-year-old grandson on his body," the wife of the killed man can be heard saying in video, as she is consoled by mourning women at her house. "The child's clothes are soaked with his grandpa's blood. He was not a militant. He was a petty employee."
At his residence in Srinagar, the daughter of the killed man told Kashmiri website The Kashmir Walla that her father was brought down from the car and shot dead. "Kill the one who shot dead my father, imagine the plight of my three-year-old son, what he must be going through? They didn't even take into consideration that a minor was with him," the daughter asks.
In another video, a man at the killed civilian's residence in Srinagar, presumed to be his son, is heard saying that "CRPF responded to the firing by militants and killed him, he was dragged down from the car and shot him dead".