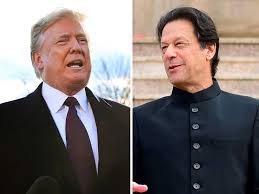 By Muhammad Luqman
Pakistan's Prime Minister Imran Khan held telephonic conservation with United States President Donald Trump and apprised him on the situation with regards to India's illegal Kashmir move, Foreign Minister Shah Mehmood Qureshi said on Friday.
In a televised statement, Qureshi said the premier has also reached out to four out of five heads of United Nations Security Council (UNSC) member states over the issue.
PM Imran Khan had a telephonic conversation with US President Trump ahead of UN Security Council session. Pakistan has established contact with 4 out of 5 permanent members of the UN Security Council.

Posted by Imran Khan (official) on Friday, August 16, 2019
The contact was established few hours ahead the UN Security Council  meet on precarious situation in Indian Occupied Kashmir .
The government of Prime Minister Narendra Modi is visibly upset at the UNSC decision to take up the Kashmir dispute at Pakistan's request endorsed by China after almost 50 years, according to media reports while Islamabad calls the UNSC decision a huge "diplomatic achievement".
Prime Minister Imran Khan has warned the international community of "severe repercussions and reactions" if they "silently witness another Srebrenica-type massacre & ethnic cleansing of Muslims in IOK".